Mulberry targets lower-priced handbags as profits fall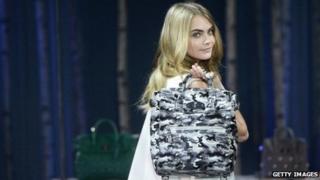 Luxury handbag firm Mulberry says it will introduce lower-priced products after an attempt to move further upmarket hit sales and profits.
Mulberry has pledged to win back customers with a £500 to £800 handbag range after trying to break into the top end of the luxury goods market.
Profits for the year to 31 March fell to £14m from £26m the previous year.
The company also said that like-for-like sales in the 10 weeks to 7 June were down by 15%.
Rebalancing act
Under former chief executive Bruno Guillon, Mulberry raised its prices in an effort to become more exclusive and win back customers who were upgrading to more expensive brands.
However, in the last two seasons Mulberry lost customers by offering more bags priced at £1,000 and above.
Mr Guillon left the firm in March this year.
"We are taking steps to restore the business to growth by creating desirable new product across the entire Mulberry range whilst continuing to invest for the longer term," said executive chairman Godfrey Davis.
In the past few weeks, Mulberry has introduced its new Tessie handbag collection, which starts at £495, and it said the range was "proving popular".
Mulberry said retail sales grew by 2% overall to £109m, but this driven by new store openings. Like-for-like sales - which strip out the impact of new stores - were down 3%.
Wholesale sales were down 6% to £54.5m, with a double digit decline in wholesale sales expected this year.
"These results, which will come as no surprise, show that Mulberry continues to suffer the consequences of its misguided strategy to align itself with the ultra-luxury likes of Prada and Fendi," said retail research firm Conlumino.