Bank of England to get new powers to cap mortgages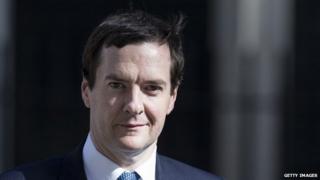 The Bank of England will be given new powers to prevent the housing market from overheating, Chancellor George Osborne will announce later.
These will include capping the size of mortgage loans compared to income or the value of the house.
The new powers will be given to the Bank's Financial Policy Committee by the end of this Parliament.
Mr Osborne will also announce reforms to planning laws designed to increase the supply of housing.
These should provide permission for up to 200,000 new homes, the government says.
Speaking this afternoon, Mr Osborne said: "I'm acting against future risks in the housing market by today giving the Bank of England new powers to intervene and control the size of mortgages compared to family incomes and house values".
Too much risk
In his annual Mansion House speech later on Thursday, the chancellor will say that the housing market does not pose an immediate threat to financial stability, but that if left unchecked, it may do so in the future.
The chancellor will say that it is important to act now to prevent problems in the future.
He will say the risks come from homeowners borrowing too much to pay for their houses. This is a problem not just for the borrowers, but for the banks that lend them the money, he will say.
There are concerns that when interest rates rise from their current record lows, many homeowners could struggle with their mortgage repayments.
Any cap that the Bank chose to impose would be applied to every Help to Buy mortgage as well.
Earlier on Thursday, Business Secretary Vince Cable said he was "appalled" that some banks had been lending five times a mortgage applicant's income, suggesting a "stable level" was up to 3.5 times.
The latest figures from the Office for National Statistics (ONS) found prices rising at an annual rate of 17% in London, compared with 8% in the UK as a whole. This has led to fears that an unsustainable bubble is developing in the housing market.
However, last week the Nationwide Building Society said it had seen signs that house price rises were starting to cool, while the Royal Institution of Chartered Surveyors said momentum in the housing market was beginning to slow.
More houses
Mr Osborne will also announce measures to boost house building. Many commentators argue that house prices will remain inflated until the supply of housing increases.
Councils will be made to pre-approve planning permissions on brownfield sites suitable for housing and, as a result, the government expects more than 90% of suitable sites to be covered by 2020.
The coalition will create a £5m fund to help local authorities create the first sites, and will consult on further measures to enforce more house building on brownfield sites.
The chancellor will also outline measures to help clean up shady practices within financial markets, including the extension of legislation used to tackle the Libor interest rate-fixing scandal. For example, making the manipulation of the foreign currency markets by banks a criminal offence.
Mr Osborne is also expected to announce a wider review by the Treasury, Bank of England and Financial Conduct Authority, not just into forex markets, but into the commodity and fixed interest markets as well.