South Africa outlook downgraded by Fitch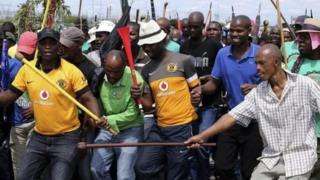 Credit ratings agency Fitch has warned South Africa that its credit rating may be lowered following a five-month platinum strike in the country.
Fitch was followed by Standard & Poor who also downgraded their rating
Fitch changed the country's outlook from stable to negative, citing poor economic prospects and rising public debt.
Its economy contracted by 0.6% in the first quarter, in part because of a fall in platinum production.
However, unions said a platinum miners' wage deal was on the horizon.
A negative outlook can indicate that a country's credit rating could be downgraded. A downgrade can influence a country's borrowing costs, as some investors are restricted from lending to borrowers that do not have a high rating.
The economic contraction in South Africa in the first quarter "partly reflects the long strike in the platinum sector, but manufacturing output also fell sharply", Fitch said.
"Following its election victory in May with 62% of the vote, the African National Congress government faces a challenging task to raise the country's growth rate and improve social conditions, which has been made more difficult by the weaker growth performance and deteriorating trends in governance and corruption," the firm added.
South Africa's Treasury said that it was committed to the plans laid out in the country's budget.
"We are committed to the fiscal path and expenditure ceiling," it said.
"While short-term cyclical factors might cause marginal deviations from targets, we will not deviate from the long term trajectory," the Treasury added.
Fitch kept South Africa's credit rating at BBB, but raised concerns about a poor economic growth outlook and persistent budget shortfalls.
Platinum wage deal
On Friday, Joseph Mathunjwa, the leader of the AMCU union, said that a miners' wage deal with the world's top three platinum producers would come soon, raising the prospect of an end to the strike.
"At least there is light at the end of the tunnel, which is not the light of a goods train," he told Talk Radio 702.
The latest offer from Lonmin, Anglo American Platinum and Impala Platinum Holding amounts to an increase of about 20%, or 1,000 rand ($93) a month.
The union and the firms are still negotiating, and need to resolve questions such as whether the pay rise should be over three or five years.
"We are in quite a sensitive stage of trying to resolve this and reach and agreement. We won't do things haphazardly," Mr Mathunjwa said.
The strike by up to 80,000 platinum miners has been going on since late January and is the longest in South Africa's history.
The stoppage has affected about 40% of the global supply of platinum, which is used in jewellery and vehicle catalytic converters.