Petra finds 'exceptional' 122-carat blue diamond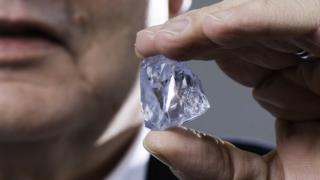 Diamond mining company Petra says it has found an "exceptional" 122.52-carat blue diamond.
The "unique" stone was found at the Cullinan mine near Pretoria in South Africa, the company said.
The crystal is being analysed in order to gauge its value, and the company will not put it up for sale before its financial year runs out at the end of this month.
Petra Diamonds shares jumped 6.5% after the announcement on Friday morning.
"So far, the highest price on record paid for a rough diamond was $35.3m [£20m], paid in February 2010 for a 507 carat white stone, also recovered from Cullinan. We think that this stone may break that record," finnCap analyst Martin Potts said.
The largest rough gem diamond ever recovered was from the Cullinan mine. The 1905 Cullinan Diamond was cut into two stones that are part of the UK crown jewels.