Wimbledon and IBM get closer to digital tennis fans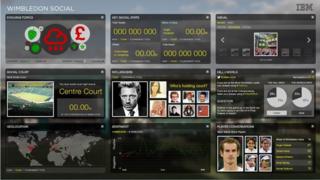 Wimbledon tennis bosses and their technology advisors say that for 2014 they have enhanced the way fans can interact with the famous tournament.
IBM, an All England Lawn Tennis Club partner since 1990, says there are new moves to meet growing digital demand.
A new Social Command Centre will give AELTC insight into social media debate.
By using Wimbledon-focused social media feeds to better understand fans in real time, the AELTC should then be able to better manage its digital presence.
It is hoped that will also give the tournament a clearer understanding about how it is being perceived by tennis followers around the globe.
The two-week event gets under way on Monday, 23 June.
Upgrades
Meanwhile, Slamtracker - a real-time statistics and data visualisation platform for fans - has been simplified.
Its predictive analytics provide insights into a match by identifying three performance indicators that are most likely to affect a player's performance.
Also, this year the official iPhone and Android apps have been upgraded and new functionality added to the iPad app.
Mick Desmond, commercial director at the AELTC, said the aim was to deliver stats, video and information to tennis fans on all devices, including smartphones, tablets, PCs and other devices.
During 2013 there were more than 19 million unique visitors and some 430 million page views of the official website Wimbledon.com during the championships.