Siemens and Mitsubishi launch Alstom gas bid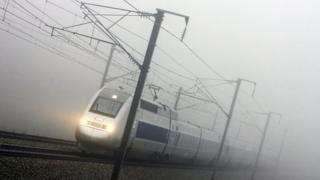 German firm Siemens and Japanese engineering giant Mitsubishi have come up with a fresh offer for Alstom.
The companies are bidding against US firm General Electric, which also wants to acquire the French firm's assets.
Siemens wants to buy Alstom's gas turbines business, while Mitsubishi has proposed three joint ventures with Alstom and a 10% stake in the company.
The offer includes 3.1bn euros in cash. Siemens is offering 3.9bn euros (£3.1bn) for the gas business.
General Electric (GE) has offered $16.9bn (£10bn) for Alstom's energy business.
Siemens also plans to discuss the possibility of creating a combined rail business with Alstom, which makes the high-speed TGV trains.
All three businesses have been courting the French government over a possible deal.
Both GE and Siemens have made pledges on jobs, with both parties promising to create 1,000 jobs.
Siemens has promised no job cuts in either Germany or France for three years after the deal is completed.
Siemens also said it would headquarter the gas turbines business in France.
'Strategic'
Siemens and Mitsubishi are meeting the French President, Francois Hollande, on Tuesday.
The French government can block foreign takeover bids for companies deemed "strategic", and has made job preservation a priority at Alstom. The company is one of France's key industrial firms.
French President Francois Hollande will hold a meeting on Thursday morning to review developments on the sale, said Economy Minister Arnaud Montebourg.
Alstom had to be bailed out by the French government in 2004, and has suffered heavy debts and a fall in orders over the past 10 years.