China brings its business muscle to Britain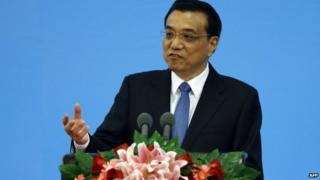 They are not exactly household names in the UK (Song Dongsheng, anyone?) but the roll call of Chinese business delegates travelling with the Chinese premier is, in fact, the Sino-UK commercial relationship in microcosm.
Song Dongsheng is in fact the chairman of Sinohydro, one of the largest hydro-electric engineering firms in the world. Sinohydro - whose parent company used to count former Chinese president Hu Jintao among its employees - was the key partner in the mind-bogglingly large Three Gorges dam project. They are now looking at investing across Europe.
Other sectors well represented on the Premier Li Keqiang's plane include nuclear power (China National Nuclear Corporation and China General Nuclear Power Group); solar power and general environmental engineering (Sumec Group, Zn-shine); telecommunications (Huawei, ZTE); financial services (Bank of China, Industrial and Commercial Bank of China) and motor (DongFeng - one of the big three car manufacturers in China, which has links with Renault, Kia and Nissan).
As Germany and France have learnt, it is deep sector relationships that promote trade with China. Germany's manufacturing ability was and is vital to China, as it built capacity after the Second World War. Germany's exports to China are four-times those of the UK's. France's relationship was built on that country's knowledge of nuclear power and China's vast nuclear building programme.
The UK, which also lags France in the value of exports to China, is only now starting to realise that rather than a scatter gun approach, it is better to pick your targets. Lord Sassoon, the former commercial secretary to the Treasury who is now chairman of the China-British Business Council, told me that finance sector services, infrastructure (mostly focused on Chinese investment into the UK), energy and technology relationships are now opening up.
Low base
As China moves from a production and export based economy to one more focused on internal consumption, the UK should be well positioned, Lord Sassoon argues.
In 2012, France's exports to China totalled £14bn compared with the UK's £10bn. For the UK, at least the figures are travelling in the right direction. It's trade to China in 2012 was up nearly 15%, whilst France's was down 3%. Given that a lot of the remaining gap is also accounted for by the fact that Airbus sales to China count as a French exports (despite the fact that the wings and Rolls Royce engines are British), then the UK is within touching distance of overtaking France as Europe's second largest exporter to China.
Admittedly, the UK is coming off a low base and there is still a large trade deficit. But, it was not many years ago that the UK was behind Italy in the amount exported to China.
What has changed? Attitude, largely. In one of his first announcements on becoming Foreign Secretary, William Hague ordered British embassies around the world to become more commercially focused, a job the embassy in Beijing has approached with gusto. David Cameron and the Business Secretary, Vince Cable, have both been on trade visits to China over the last year, as has Chancellor George Osborne.
The City is also on the move and wants to become the major renminbi trading centre as the Chinese government slowly loosens capital controls. Expect more announcements on that shortly, as well as on regional free trade agreements being negotiated by Gerry Grimstone, the chairman of Standard Life.
Open approach
The Coalition has faced criticism that it is too "wide-eyed" and welcoming to the Chinese, ignoring not only political controversy in China but also security concerns on major inward investments to the UK.
Certainly, the UK has taken a much more open approach to telecommunication companies such as Huawei which have invested heavily here. The US, for example, has been much more cautious. There are also likely to be more announcements on China's backing for new nuclear developments, such as at Hinkley Point B, a joint venture with EDF - itself of course, French. Lord Sassoon urges calm, saying that China is well aware of the dangers of over-reaching its remit and is taking a suitably "junior partner" approach.
When it comes to smaller businesses looking to the vast Chinese market it can all seem a little daunting. Many major global companies have come unstuck in China - what chance a small and medium sized enterprise?
Julie Deane, of Cambridge Satchels, and who accompanied Mr Cameron on his visit last December, says that partnerships with established operators in China (for her Galeries Lafayette and Lane Crawford) is a sensible way forward.
Pomp and ceremony
She also argues that for businesses like hers - which rely on intellectual property protection - China is certainly improving. "This is a worldwide problem," she told me. "It is probably not quite fair to single out China. Everything (on IP protection) has speeded up a lot there."
Ms Deane advises getting your IP protection in order first before striking out with internet distribution and selling deals. She has not yet done a deal, for example, with Tmall, the Chinese language digital distribution site.
Over the next 36 hours I am sure we will see much pomp and ceremony as various business deals from nuclear to finance are announced. There could even be something more on Chinese backing for the HS2 rail project.
The UK, whatever the controversies, wants strong commercial relationships with China. Some of those names on the delegation list might yet become more widely known.