Alstom: Siemens and Mitsubishi in talks with Hollande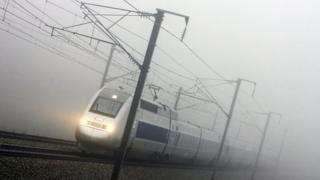 Executives running the joint Siemens-Mitsubishi Heavy Industries' bid for France's Alstom look unlikely to raise their offer.
"Why would a superior offer be improved if it is superior already?" Siemens' chief executive Joe Kaeser said.
It followed talks with President Francois Hollande, when the firms were reportedly told to improve the offer.
The companies are bidding against US firm General Electric, which also wants to acquire the French company's assets.
Talks with all the parties are expected to continue over the next few days.
Possibilities
Siemens would pay 3.9bn euros (£3.1bn) for the gas turbine arm, while Mitsubishi would buy 10% of Alstom and inject 3.1bn euros into the company.
General Electric has offered $16.9bn (£10bn) for Alstom's energy business.
Siemens also plans to discuss the possibility of creating a combined rail business with Alstom, which makes the high-speed TGV trains.
After the talks with Mr Hollande, Mr Kaeser was asked whether bid terms would be raised. "There is no reason for us to discuss that question at this time," he said.
There are fears in France that the bid battle will end with the break-up of Alstom and the loss of jobs.
All the bidders have pledged job creation and investment, but Reuters news agency reported that during the meeting with Mr Hollande, the Siemens-Mitsubishi delegation was told that the "terms must be improved".
Mr Kaeser told the news conference: "We are keeping a proud French icon strong and making it even stronger. We are not going to dismantle this proud company."
The French government can block foreign takeover bids for companies deemed "strategic" and has made job preservation a priority at Alstom. The company is one of France's key industrial firms.
Alstom had to be bailed out by the French government in 2004. It has suffered heavy debts and a fall in orders over the past 10 years.