Bank of England names London Chinese currency clearing hub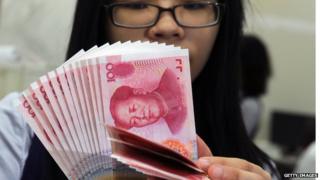 The Bank of England has appointed one of China's "big four" banks as the Chinese currency clearing bank in London.
The China Construction Bank will be the London renminbi (RMB) clearing house.
The appointment is part of a plan to make London a hub for Chinese currency dealing.
Chancellor George Osborne said the bank would be "hugely important in underpinning the future growth of London's RMB business".
In March, the Bank of England signed a memorandum of understanding with the People's Bank of China setting out the deal.
The banks have said they want to encourage the cross-border use of renminbi, or yuan, to rebalance the global economy.
Mr Osborne said that "the emergence of China's currency as one of the world's leading currencies will be the next huge change" in the financial world.
In addition to the renminbi clearing agreement, Mr Osborne said that UK Export Finance, the UK's trade finance body, will start to give guarantees for transactions denominated in RMB.
Renminbi and the UK economy
Bank of England governor Mark Carney said the clearing house deal was an "important milestone", because the Chinese bank would "play a valuable role in facilitating greater use of the RMB for trade, investment and other economic activities in the UK".
Standard Life chair Sir Gerry Grimstone said renminbi trading is the most important issue facing the City of London at the moment.
Mr Grimstone, who also chairs financial services trade body TheCityUK, helped broker the memorandum.
He said the deal could help to secure City jobs for decades.
"We're moving down a track very rapidly where London is going to become... the offshore centre for trading renminbi," he told the BBC.
Two-thirds of Chinese currency traded outside of China is already done in London, he added.
On Tuesday, Prime Minister David Cameron announced that trade deals worth more than £14bn had been signed during a state visit by Chinese premier, Li Keqiang.
Mr Li said the yuan clearing house deal "will further consolidate and promote London's status as an international financial hub" and help "promote trade and investment liberalisation and facilitation".
During Mr Li's visit, the London Stock Exchange (LSE) said that it had signed agreements with two of China's biggest banks to develop UK renminbi trading.
The LSE deal with the Bank of China will see the two firms design clearing and financing processes for financial products.
The deal with the Agricultural Bank of China is designed to help ease access to capital for Chinese companies.
Last year, China opened its markets to UK-based investors, letting London-based asset managers invest directly in Chinese stocks and shares in yuan.
A 200bn-yuan currency swap arrangement allows firms to settle trades directly in pounds and yuan rather than through US dollars.
In March, the private-sector arm of the World Bank, the International Finance Corporation, issued a 1bn-yuan bond in London, the first by an international financial institution.
Future deals?
Mr Osborne said that there were a number of ideas discussed with the Chinese delegation during Mr Li's visit, including how to make London an attractive place for Chinese businesses to set up international headquarters.
Direct stock market investment in RMB from Chinese individuals and institutions and was also discussed.
"I now want us to explore ways for Chinese individuals and institutions to invest RMB into London's global capital markets," he said.
The chancellor said he would also like to see the London Stock Exchange directly hooked up to stock exchanges in China.