No wage rises until jobless rate falls to 5% says MPC member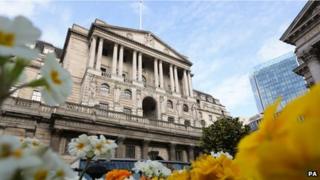 Average wages may not rise until the jobless rate has fallen to 5%, a Bank of England policymaker has suggested.
Martin Weale said there may be more spare capacity in the economy than policymakers had previously estimated.
If so, it means employers have room to keep hiring for some time before they have to increase wages to attract scarce workers.
He said low wage growth could also keep interest rates at 0.5% for longer than currently expected.
But he added policymakers should start to raise interest rates before any sustained rise in real wages occurred.
In a speech to business leaders at a Confederation of British Industry (CBI) conference in Northern Ireland Dr Weale said for every one percentage point that unemployment was "above its equilibrium," quarterly pay growth was likely to be 0.3% lower "than it would otherwise be".
He added: "If I put all of the weakness in wages over the past year down to the unemployment gap being larger than we currently believe, this points to extra spare capacity of over half a per cent of GDP.
"This is consistent with a medium-term unemployment rate closer to 5% than our current range of 6% to 6.5% [the Bank's current consensus estimate of the point at which employers will have trouble recruiting suitable people]."
Spare capacity
In its February quarterly inflation report the Bank of England estimated there was between 1% and 1.5% of spare capacity in the UK economy, but Dr Weale's remarks suggest that could be as high as 2%.
Spare capacity most often stems from underinvestment by businesses. It is the Bank of England's way of gauging how far GDP is below its potential growth.
Although employment is at record levels, an increasing number of jobs are part time. The latest figures from the Office for National Statistics (ONS)show the number of people in part-time employment increased by 104,000 to 8.17 million.
And in April the ONS said nearly half of big companies in the UK use a total of 1.4 million zero-hours contracts, which do not guarantee minimum hours.
It has previously estimated that 583,000 people, around 2% of the UK workforce, were employed on zero-hours contracts between October and December 2013.
Dr Weale said it was difficult to determine the true state of employment in the UK making it equally possible that existing data could be overstating the amount of spare capacity in the labour market.
He said: "One factor is that people who have been recently unemployed are less productive than average. If this is the case, then as the economy continues to grow, unemployment could fall more quickly than the MPC expects."
The most recent official figures showed average wages grew by 0.7% in the three months to April.
Unemployment
Asked if Dr Weale believed the unemployment rate needed to fall to 5% before average wages would rise as they should, a Bank of England source said the policymaker was outlining "one possibility".
Dr Weale said falling unemployment and recovering productivity should result in wage growth picking up to around 4% a year.
However, he also warned that if there was less spare capacity than the Bank of England had estimated inflationary pressures developing in the labour market - wage rises - would mean interest rates would need to rise sooner rather than later.
Dr Weale's speech to the CBI comes on the same day that minutes from Bank of England's latest meeting of the Monetary Policy Committee (MPC) showed its members were "surprised" to see markets did not expect an interest rate rise this year.
They voted unanimously to keep interest rates at 0.5%.
The minutes come a day after official figures showed inflation fell to 1.5% in the year to May.
Bank policymakers see economic growth slowing in the second half of the year.
But several economists have shifted their interest rate forecasts since the governor of the Bank of England, Mark Carney, hinted during his annual Mansion House speech to business leaders that an interest rate rise "could happen sooner than markets currently expect".