GM 'ignored early warnings' on cars with faulty switches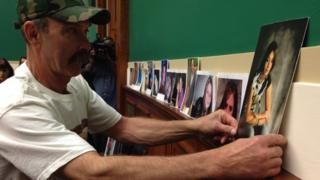 US lawmakers allege that General Motors ignored early employee warnings about a faulty ignition switch dating back to 2005.
Facing intense questioning over GM's handling of the safety scandal, Ms Barra said she was not aware of an email from GM engineer Laura Andres.
Ms Andres warned GM had a "serious safety problem" with switches in the 2006 Chevrolet Impala she was driving.
She said this could lead to "a big recall".
The email from Ms Andres was just one of several pieces of evidence lawmakers displayed during Ms Barra's second Congressional hearing this year after announcing a recall in February for cars affected by the faulty switches.
At least 13 deaths have been linked to the part, and lawmakers alleged that GM knew of problems for over ten years but failed to alert drivers that they could be at risk.
'Culture of secrecy'
In prepared testimony, Ms Barra said the firm accepted a "brutally tough and deeply troubling" report into why the carmaker failed to issue a recall or safety notice earlier, after the problems had been reported nearly ten years ago.
She promised that changes had been made to alter GM's "culture of secrecy" and said that those responsible for failing to report the problem had been disciplined or fired.
The report - which was carried out by former US Attorney Anton Valukas - exonerated Ms Barra and other top executives, saying that lower-level employees failed to alert them to the safety issue.
Many lawmakers expressed scepticism that Ms Barra, who was head of product development for a period before rising to leadership, remained unaware of the problem with the switches.
Ms Barra said that Kenneth Feinberg - the man tasked with setting up and administering a compensation fund for victims - would release his criteria for victim compensation by the end of this month.
She said that the fund would cover any person who suffered a serious injury due to the ignition defect.
Still buying
The hearing came days after GM announced another recall of 3.2 million cars.
In total, the firm has recalled 44 million cars this year - significantly more than the total vehicles it sold in 2013.
Safety actions have cost GM a total of $2bn (£1.2bn) this year.
That includes the $35m the carmaker was fined by the National Highway Traffic Safety Administration (NHTSA) for its failures to report the safety defect. That was the maximum amount allowed under US law.
Separately, the NHTSA said on Wednesday it was opening two new investigations into a similar problem in some Chrysler cars.
Overall, US car firms are set to recall a record number of vehicles this year.
But US car buyers seem to be taking the recalls as a sign of improving safety in the industry.
GM reported its best May sales in seven years a few weeks ago, and its share price is just above what it was when the firm announced the first round of recalls on 13 February.