Retail sales dip 0.5% in May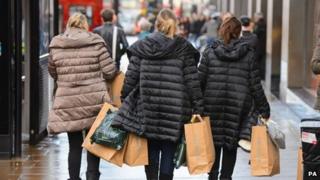 UK retail sales fell for the first time since January last month, despite strong sales of replica football shirts ahead of the World Cup, official figures have shown.
The Office of National Statistics (ONS) said retail sales fell 0.5% in May compared with a month earlier.
But they remained 3.9% higher than a year ago.
In April, retail sales hit a near 10-year high of 6.5% compared with the year before, boosted by a late Easter.
The drop in monthly retail sales was expected.
The ONS said the fall would have been bigger, had it not been for strong sales in sports stores, driven by football shirt sales.
Inflation
Food sales fell 2.4% on the month, the biggest fall since January, after rising 3.9% the month before.
Earlier this week, the ONS data showed inflation fell to a four-and-a-half-year low to 1.5%, helping to ease the pressure on consumers' spending power.
But wage growth remains subdued, with the most recent figures showing average wages grew by 0.7% in the three months to the end of April.
The fall in retail sales came despite the biggest drop in prices since September 2009, which declined 0.7% in part as a result of falling fuel prices.