UK trade numbers lose national statistics status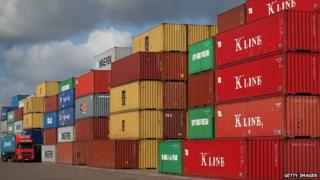 The UK's official trade figures have temporarily lost national statistics status following an error by Her Majesty's Revenue and Customs (HMRC).
UK Statistics Authority chair Sir Andrew Dilnot has written to the Office for National Statistics (ONS) confirming the suspension.
Earlier this month, HMRC announced that it had accidentally excluded £700m of trade from one oil exporter from the figures it delivers to the ONS.
The ONS may re-issue the April figures.
When the trade figures were published on 6 June, they included a note that oil exports had been underestimated by £700m, but that the error had been identified too late to update the bulletin.
The exclusion made up a hefty proportion of the UK's oil exports, making it look as if they had fallen to £2.2bn in the month.
The UK Statistics Authority, which is the regulator for government statistics, has also asked HMRC to advise on how it will ensure it avoids such errors in future.
In a statement, an HMRC spokesperson said: "Although the size of this identified omission was unusually high, the trade statistics are always provisional when first published, and subject to update to enhance accuracy, for example, following the receipt of late, missing or updated data."
The ONS had to delay the release of its January trade data by two days as a result of another error from HMRC.
It decided this time that as it would have to delay the release by a week it would be better to release the figures on time but include warnings about the missing data.
The last official release to have its national statistics status revoked was the crime figures, which lost their designation in January after Sir Andrew Dilnot said there was "accumulating evidence" that the data collected by police forces may not be reliable.
Having national statistic status means that a statistical release follows the UK Statistics Authority's Code of Practice and may be trusted by users. Removing that designation is the regulator's way of putting a health warning on the figures.