TSB share sale values bank at £1.3bn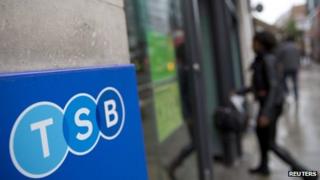 Lloyds Banking Group has increased the amount of TSB shares it is selling as a result of strong investor demand for the stock market listing,
Such has been the level of interest in the bank's stock market debut that it was 10 times oversubscribed.
The 25% taxpayer-owned bank will sell a 35% stake in TSB, up from an originally planned 25% stake.
Shares have been priced at 260p each, giving TSB a market value of £1.3bn.
The stock market debut comes after Lloyds was ordered to sell 631 branches by European regulators in 2009.
It must sell its remaining shares in TSB by the end of 2015.
The share sale will see Lloyds net £455m. The bank said 30% of shares had been sold to retail investors.
Retail investors were not able to buy or sell shares on Friday. Shares were open to institutional investors, however, under conditional trading rules.
The shares finished 11.5% higher at 290p.
Retail investors will be able to trade their shares from 25 June.
LLoyds had originally planned to sell the 631 branch network to the Co-op Bank, but the deal fell through last year, after a £1.5bn black hole was discovered in the Co-op's balance sheet.
Antonio Horta-Osorio, group chief executive of Lloyds Banking Group, said: "The successful initial public offering of TSB is an important further step for Lloyds Banking Group as we act to meet our commitments to the European Commission.
"TSB has a national network of branches, a strong capital base, robust liquidity and significant economic protection against legacy issues.
"It is already operating on the UK High Street and is proving to be a strong and effective challenger, further enhancing competition in the UK banking sector."
Paul Pester, chief executive of TSB Bank, said he was "delighted with the level of investor demand for TSB's shares".
"It shows there is real appetite for a different kind of bank - a High Street bank, not a Wall Street bank - which is focused on customer service.
"We are now focused on delivering on our strategy of bringing more competition to High Street banking across Britain."
TSB has 4.5 million customers, making it the seventh largest retail banking group in the UK. It is aiming to become a larger player in the current account market, growing from 4.2% to 6% over the next four to five years.