Public borrowing hits £13bn in May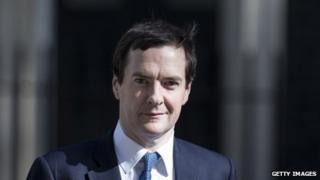 The government borrowed more than expected in May, denting the chancellor's efforts to reduce the public deficit, official figures have shown.
The Office of National Statistics (ONS) said public sector net borrowing stood at £13.4bn last month.
It means the public deficit this year stands at £24.2bn, some 8.7% higher than at the same time a year earlier.
May's borrowing figures were also well above economists' forecasts of £9.35bn.
The Office of Budgetary Responsibility (OBR) forecast public sector borrowing for the financial year 2014/15 would stand at £96bn.
Economists suggested the chancellor may struggle to meet his borrowing target this year, but a Treasury spokesperson said the figures were "in line with the budget forecast" .
The Treasury said the borrowing figures were affected by unusual receipts in May 2013, when the Bank of England transferred £3.9bn of interest payments due on government bonds.
The government also received £0.9bn as a result of a deal with Swiss tax authorities ostensibly designed to curb tax avoidance by UK nationals.
While income tax and national insurance receipts were 0.3% higher in May compared with the same month a year earlier, for the year so far, they are 0.8% lower compared with the first two months of the previous tax year.
Treasury officials explained the difference was the result of higher tax receipts being received in April and May 2013, as individuals delayed bonus payments until the top rate of tax was cut from 50% to 45% at the start of the new tax year.
Business correspondent Jonty Bloom, writes:
If more people are earning an income, why is the government not receiving much more in income tax?
That is the big question raised by the latest borrowing figures. They show the government had to borrow Public borrowing hits £13bn in May£13.3bn last month.
Stripping out all the one-off factors, that is slightly better than last year, but only slightly, and what seems to be missing is a surge in income tax receipts and other payroll taxes, such as National Insurance.
That is pretty surprising, given that over the last year, there has been in increase in employment of over 700,000 people.
True, a lot of people are working part time, there's more self-employment and wages are staying low, but even so, with the government borrowing figures slightly off-target already, it will want to see more money coming in from those in work to help balance the budget.
Samuel Tombs, senior UK economist at Capital Economics, said: "May's public borrowing figures contain tentative signs that the coalition may be beginning to struggle to bring down the deficit in line with the fiscal plans.
"While the economic recovery may now be fairly strong, it still appears to be struggling to have much of an impact on the borrowing numbers."
Howard Archer, chief UK and European economist at IHS Global Insight, said the chancellor had suffered a disappointing start to the fiscal year
He added: "Of course, it is early days and it is also important to bear in mind that public finance data can be volatile from month to month and subject to significant revisions. Nevertheless, the overall performance for April and May has not been the start to the fiscal year that George Osborne would have been looking for."
Chris Leslie, Labour's shadow chief secretary to the Treasury, said: "Not only is George Osborne set to break his promise to balance the books by next year, but so far this year, he is borrowing more than the same period last year.
"Borrowing is now expected to be almost £190bn more than planned under this government. This is the cost of three damaging years of flatlining and falling living standards we have seen since the election."