Simon Woodroffe: The Yo! Sushi boss who beat depression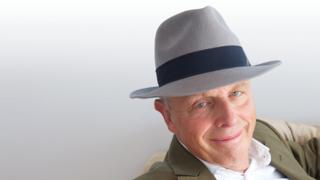 Simon Woodroffe felt he was down on his knees just before he founded restaurant chain Yo! Sushi.
At the time he was 40 years old, recently divorced, out of work - and battling depression.
"When you are really down you lose your confidence and your self esteem," says Mr Woodroffe, now 62.
"I was down, and I had to really fight to climb out of it.
"It was survival. People would say to me, 'What inspired you to start Yo! Sushi?' And I would reply, 'Desperation.'"
This was in the early 1990s, and having previously worked in the music and TV industries, Mr Woodroffe was home in London, fighting the blues, with his money running out.
Not wanting to return to his previous careers, he hoped to set up a completely new business.
A Japanese friend suggested he set up the UK's first conveyor-belt sushi restaurant.
And so the idea for Yo! Sushi was born. The business, which now has more than 70 branches in the UK and overseas, pulled Mr Woodroffe out of his depression and made him a multimillionaire.
'Wilderness year'
Born and bred in the English county of Essex, Mr Woodroffe left school at 16 with just two O-levels, and got a job in London as a theatre stagehand.
This was the late 1960s, and soon he switched to the music industry, becoming a roadie and then a stage designer for the likes of Rod Stewart, the Moody Blues and Jethro Tull.
"It was absolutely incredible," he says. "I was travelling around America with rock bands, staying in big hotels. I couldn't believe my luck."
Mr Woodroffe stayed in the music business until the Live Aid charity concerts of 1985, when his company designed the stage at Wembley Stadium.
But while Live Aid was a pinnacle for many in the rock'n'roll business, for Mr Woodroffe it marked the beginning of the end of his involvement.
He says the event made him realise that the industry was now "being run by accountants", and that he suddenly felt out of place.
After falling out with his then business partner, Mr Woodroffe quit and, battling an early bout of depression, spent "a year in the wilderness".
He eventually worked for a number of years in the TV industry, first selling the rights to televised rock and pop concerts, followed briefly by making programmes about extreme sports.
But then divorce and returning depression saw him once more out of work, before he hit upon the idea for Yo! Sushi.
'High-class' experience
Researching conveyor-belt sushi bars, Mr Woodroffe found there were about 2,500 in Japan, where they had been around since the 1970s.
To his horror, he then discovered there was already one in east London.
However, this was a more downmarket offering than his plans for "a high-class, cool London experience".
He was ultimately able to persuade his bank manager to back the idea, and was even able to secure a £200,000 loan guarantee from the UK government.
And so, two years after the idea was born, the first Yo! Sushi restaurant opened in London's fashionable Soho district in 1997. And it had no customers.
"The first week nobody turned up, and the second week wasn't very good either," recalls Mr Woodroffe.
"And then the second Saturday we had a queue down the block, and then we had a queue for two years after that. It was like having a hit record.
"[At first] people were simply scared to come in. They would just stop and watch the conveyor belt going round. You have to remember that there were hardly any sushi restaurants at all in London at the time.
"Then it all took off, and it was all due to word of mouth.
"If people hadn't turned up I would have lost everything. The relief was absolutely amazing, and within a year we had a million quid in the bank."
'Control freak'
Two years after the opening of the first branch in Soho, second and third outlets were launched in London department stores Harvey Nichols and Selfridges, which Mr Woodroffe says were also tremendously successful.
But after that, problems began to surface, as the next two branches - one in Edinburgh and one in London's former County Hall - were flops.
"We thought that wherever we opened, people would just pile in, and it wasn't true," says Mr Woodroffe.
To stabilise the business, he brought in an outside manager called Robin Roland, who has remained as chief executive ever since and orchestrated Yo! Sushi's successful expansion.
Mr Woodroffe says: "I was a control freak in those days, [but] I realised that what I needed to do was hand over [control].
In 2008, Mr Woodroffe sold Yo! Sushi, but he is still paid an annual royalty of 1% of gross sales.
He has since taken the Yo name into other areas, setting up hotels business Yotel and, more recently, homebuilder Yo! Home.
Mr Woodroffe also mentors new start-ups, and is currently involved in a small business mentoring scheme organised by Volkswagen Commercial Vehicles.
Looking back on the start of Yo! Sushi and his fight with depression, he says: "I was 40, and I do believe that things could have gone badly wrong for me... who knows, it is conceivable that I might not have recovered, and been an embittered old man."
But he says he is proud of what he has achieved.
"I look back on myself full of admiration. I'm not sure how I did it, but I did, I climbed back out."