The market is asking - will TSB buy Co-op Bank?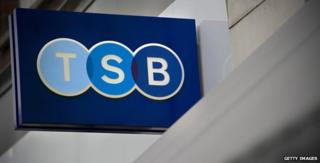 To the list of betting shops and charity emporia can now be added challenger banks. High streets up and down the country are fair bursting with the blessed things.
This morning Lloyds floated 35% of TSB on the stock market. At 260p a share, the 630 branch bank is valued at £1.3bn, about 80 per cent of its net asset value.
Lloyds was cautious with its valuation, which is still well above the £750m it was offered by Co-op Group to buy the bank in 2012.
Though that caution is understandable, the 13% rise in the share price in conditional trading this morning reveals that demand for the shares is high. The float was 10 times over-subscribed.
The stake sale has been split 70-30 between institutional and retail investors. All individual investors who applied for shares will receive up to £2,000 worth, which means that they will be eligible for the bonus shares in a year's time if they retain their stake.
What about the long term? A number of banks are now selling themselves to customers on an "ethical and simple" ticket. Alongside TSB is Co-op Bank, which has remade itself after the disasters of the last 18 months, and is now looking to increase its market share in current accounts and savings.
Lloyds says it is all about being a "vanilla", straight-forward bank with none of the investment bank fancy stuff.
Tesco Bank has recently launched a current account and Marks & Spencer has revamped its banking business which is run by HSBC.
The government's desire for more players in the retail market seems to be coming to fruition.
Smaller players include Metro Bank in the south-east of England and Virgin Money, which bought the better bits of bombed out Northern Rock. Royal Bank of Scotland is preparing to carve out the old Williams and Glyn's branches from its portfolio.
But with proliferation comes merger and acquisition possibilities.
TSB is a "clean" bank and so more attractive in the market. As part of the sale agreement, Lloyds has provided TSB with an indemnity against any future legal claims for misconduct.
There is also a £450m pot of money held by Lloyds which TSB can access to improve its IT in the future.
This might seem a somewhat irrelevant European Union condition attached to the sale. But it is far from it.
Should TSB look to buy a competitor - let's say Co-op Bank - in the future, then it can use the £450m to smooth the IT costs, often the biggest barrier to a smooth merger. Similarly, if it becomes a bid target, the money will be available.
There is much chatter in the market that once Lloyds has wholly sold TSB (probably in two more tranches over the next 12 months) the highly capitalised bank might start looking for targets.
With its similar ethical positioning on the high street, many are already pointing out that Co-op Bank looks like a perfect fit.