France claims victory in Alstom deal with US rival GE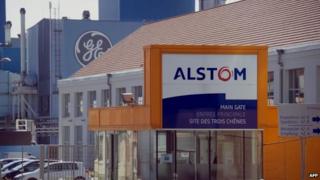 The boss of French rail and energy group Alstom says the $17bn (£10bn) deal to sell off most of its power generation business to US rival General Electric will protect France's interests and save jobs.
"[It is] a combination of Alstom's qualities and GE's economic strength," said Alstom chief Patrick Kron.
France approved the deal after securing an option to buy a 20% stake in Alstom.
The controlling stake will enable it to protect French interests.
Alstom rejected a rival offer from Siemens and Mitsubishi Heavy Industries.
Joint ventures
The agreement comes after months of negotiations and, as a result of the French government's intervention, is substantially different from GE's original offer, which had been for a straightforward purchase of Alstom's power business.
The new deal, which the government supports, will see GE buy Alstom's operations that manufacture natural gas turbines for power plants.
In turn, Alstom will buy GE's railway signalling systems division.
In addition, GE and Alstom will create three joint ventures, equally owned, for power grid, renewable energy and nuclear power businesses.
Alstom's shares fell 1.8% in trading on Monday after the agreement with GE was announced.
'Ice-cold'
"This is a way of organising ourselves in the face of globalisation. It builds alliances rather than allowing France to become a giant shopping centre for foreign corporations to come and prey on our companies," said French economy minister Arnaud Montebourg.
A senior presidential aide said it was "perfectly natural" for the government to have intervened in the deal, noting nuclear power was strategically important. "Such a deal would have been impossible for a French company in the US," he added.
Mr Kron said buying a stake in Alstom would be a "good investment" for the French government.
"This is a company which has a strong potential of value creation and I'm expecting that all shareholders will benefit from this value creation," he said.
However, Peter Ramsauer, chairman of the German parliament's economics committee, criticised France's decision to favour the GE bid and reject the joint bid from Siemens and Mitsubishi Heavy Industries.
"The French government acts with ice-cold national industrial interest, and the French government has clearly put its own national interests, one-sided French concerns, ahead of European interests," he told German radio station Deutschlandfunk.
Good deal?
GE chairman and chief executive Jeff Immelt said the deal was "good for France, GE and Alstom".
And many analysts believe it is a good deal for GE, despite the French government's intervention.
Russell Solomon, senior vice president and lead GE analyst at Moody's credit ratings agency, said the protracted negotiations were "indicative of the protectionist type of environment you have to deal with when doing business in France".
"With that said, GE has been ... very familiar with the business practices and the regulatory environment in Europe generally and France in particular. The implication is that they know what needs to be done."
The deal, which still requires approval from shareholders and competition watchdogs, is expected to be completed in the first half of next year.
"The process ahead is still heavy and complex," Mr Kron said.
The future of Alstom, which employs 18,000 people in France out of a total 90,000 worldwide, is an important issue for Mr Hollande's government, which is battling to reduce a huge trade deficit and record unemployment.