Mortgage demand 'to keep rising'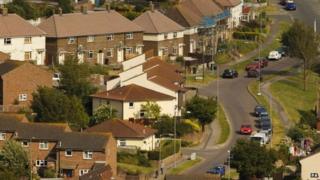 Lenders expect demand for mortgages to continue to rise in the next three months but supply may be squeezed slightly, the Bank of England has said.
The Bank's Credit Conditions Survey also found that demand for home loans "increased significantly" in the second quarter of the year.
The survey comes a few days before the Bank announces whether it will take any action to dampen the housing market.
Some have called for action to control rising house prices in London.
The Bank's Financial Policy Committee met last week, and is widely expected to have discussed the impact of the latest official figures showing an annual property price increase of 18.7% in London.
Excluding London and the South East of England, the cost of a home was 6.3% higher in April than 12 months before, the Office for National Statistics (ONS) said last week.
'Statistical fog'
Some commentators - such as the Royal Institution of Chartered Surveyors (Rics) - have suggested that momentum in the housing market has passed its peak.
Government schemes have kick-started the market from the lull that started during the financial crisis, but the introduction of new affordability rules - known as the Mortgage Market Review - is thought to have caused a bottleneck with home loan applications.
The Council of Mortgage Lenders suggested on Thursday that there was a "statistical fog" regarding mortgage data at the moment, owing in part to the disruption caused by these new rules.
The Bank of England's survey of lenders, conducted at the end of May, found that demand for homes was expected to rise.
Approvals were expected to fall in the second quarter of the year, although in reality this did not happen. Yet lenders are predicting a significant fall in the number of mortgage applications that are approved in the coming three months.
"Some lenders noted that changes introduced as a result of the Mortgage Market Review might reduce approval rates somewhat," the Bank said.
"In addition, some lenders suggested that a tightening in lending standards on large loans with high loan-to-income ratios may also push down their approval rate a little."