World Cup 2014: The real cost of losing?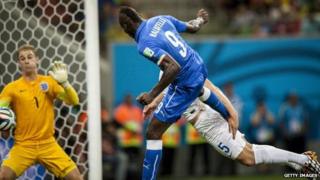 A summer of sport is not just of interest to football and other fans, as according to one finance professor the results can have a wider effect.
Alex Edmans, of London Business School, says the emotion around a nation's sports defeat can hit its stock market.
He says the effect has been seen in the World Cup when England lost to Italy, and when Spain were beaten by Holland.
"Our research shows the market is affected by psychology and emotion rather than fundamentals," he says.
He, and colleagues Diego Garcia and Oyvind Norli, looked at 2,600 sporting games - 1,100 football matches, and 1,500 other sporting contests, against the stock returns in 39 countries.
Cricket too
He says his research has found that there is a bigger effect in the large and historic football nations of Brazil, Argentina, Spain, Italy, England, Germany and France.
"And in India we find a marked effect if the cricket team lose," he says.
As well as the World Cup, they also looked at the Copa America and European Championship football tournaments, as well as rugby union, basketball and one-day cricket contests.
"When there is a loss in a large international sporting match, the stock market typically does worse in the country has experienced the loss, although it doesn't always happen," says Mr Edmans, who also teaches at Wharton School, University of Pennsylvania.
He says that broadly speaking World Cup elimination leads to the home stock market falling by 0.5% the next day, "even after controlling for other determinants of stock returns".
Confident fans
Mr Edmans says the effects of winning do not have as strong as positive effect as the negative effects of losing.
"There is no particular movement if there is a win," he says. "Sports fans are always confident about their teams, so if they win there is no real surprise."
"Also, if you win in a knock-out tournament you are just through to the next round, but if you lose you are knocked out of the event, and that is the end of your participation."
On the Monday following England's loss to Italy the UK stock market fell by 0.34%, when the rest of the world market was flat. And Mr Edmans says that when Spain lost 5-1 to Netherlands, the Spanish stock market fell by 1% the next day when the rest of the world was again flat.
He says that even if losing sports nations' stock markets do not necessarily drop, they do worse than their counterparts.
By Thursday, 19 June, Mr Edmans had looked at 12 countries who had lost World Cup games.
In eight of those cases the losing country had seen a worse performance on their stock market against the general global trend.
Of the other four, three of these featured defeated teams who emerged with their heads held high. These games were Croatia v Brazil, Bosnia v Argentina, and Australia v Holland.
Meanwhile, in the other - Spain's defeat to Chile, there was a coronation which he says buoyed the national mood.
Fundamentals
"People might ask why we looked at the relationship between sport and the stock markets," he says.
"The serious question is whether the stock market is affected by fundamentals, such as dividends, or unemployment, or by emotion and psychological factors?"
He says his conclusion is that the effect of sporting results on national mood can spill over into the stock market and affect billions of pounds of market trade.
"Our research shows the market is affected by psychology and emotion rather than fundamentals," he says.
However, regarding the forthcoming England game against Costa Rica, he says he doubts it will have much market effect as England are already out, and - for different reasons - both managers may make a number of player changes too.