The drop-in centres allowing new US tech firms to grow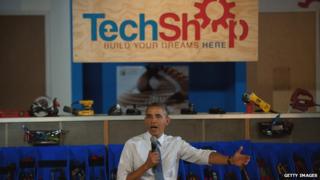 You know a US small business has made a big impression when President Barack Obama visits to praise it in front of the TV cameras.
The company in question is called TechShop, and it runs a growing network of open access manufacturing workshops.
With eight centres across the US at present, in return for a monthly or yearly fee, members can drop in and use state-of-the-art manufacturing equipment, everything from 3D printers to laser cutters.
The first of its kind in the US, the aim is to give people access to machinery they otherwise could not afford, or even dream of being allowed to use. Many commentators call this "democratising manufacturing".
And while many of TechShop's members are hobbyists - people using the facilities to make things for fun - a growing number of start-up firms are successfully using TechShop centres to get their companies off the ground, as President Barack Obama highlighted last month.
Visiting TechShop Pittsburgh, he said: "For the price of a gym membership people can become members of TechShop, and able to have access to a bunch of cutting edge technology.
"Folks are able to create products, ideas, in some cases just doing [it] as a hobby or for pleasure, but in some cases ending up as businesses which are thriving."
President Obama went on to praise the likes of TechShop, and its newer workshop competitors, as being at the forefront of what he sees as the continuing strong recovery of the US's manufacturing sector.
Cautious expansion
TechShop is the brainchild of Jim Newton, 51, a robotics teacher at the College of San Mateo, and a science advisor to the TV show Mythbusters.
Mr Newton came up with the idea when he realised that he wanted somewhere he could go to work on his own manufacturing projects, but also as a result of his students complaining that they couldn't access the equipment they needed.
Yet while having a good idea for a business is one thing, funding it is quite another.
Mr Newtown says: "And no one in their right mind was going to touch it, certainly not banks given that we had no track record."
With Mark Hatch, a former executive of FedEx Office coming on board as TechShop's chief executive, TechShop was eventually able to secure financial backing via a crowdfunding campaign, whereby members of the public invested money in return for being the first to gain membership.
And so the first TechShop opened in Silicon Valley, California in 2006.
Even though it received almost instant acclaim, TechShop has deliberately been slow to open new centres, despite Mr Hatch saying that "ultimately we would love to have a TechShop in every town [in the US]".
The reason for this is because not all TechShop centres have worked, with two having had to close - Beaverton in Oregon and Raleigh in North Carolina.
Mr Hatch says the facility in Beaverton, which is 30 minutes outside of Portland, Oregon's largest city, was just too far away from Portland's "creative class".
Meanwhile, the Raleigh facility was also "just way off the beaten track".
Mr Hatch adds: "It doesn't matter how cheap the real estate. If it's too difficult to get to, it doesn't make any sense."
With Techshop membership costing from $99 (£58) per month, each TechShop centre needs to have 800 members to break even, which adds to the company's caution.
Mr Newton says: "You don't want to go to a particular city till you have everything lined up, and there's local buy in from the community."
For three TechShop centres help has come from some very large organisations - carmaker Ford, and the US government.
TechShop's Detroit centre opened in 2012 in partnership with Ford, which gives members of its staff free membership for three months.
Ford claims that its tie-up with TechShop has led to a 50% rise in the number of patentable ideas put forward by the carmaker's employees in one year.
Meanwhile, TechShop's offices in Washington DC and Pittsburgh are being used by Darpa, an agency of the Defence Department, and by the Department of Veteran Affairs, which is handing out 2,000 complementary memberships to veterans.
Faster prototypes
But what about the small firms which have used a TechShop facility?
Back in 2012, architect Max Gunawan bought himself a one-month membership at TechShop's San Francisco facility "just to do something creative outside of work".
He started working on a prototype for a rechargeable lamp shaped like a book, with all the "pages" lighting up when you open it.
Now, just two year's later, his Lumio light is being sold via his company's website, and from upmarket interior design stores.
Mr Gunawan, 33, says: "TechShop, and being able to use all the machinery I needed, was essential in allowing me to get my prototype made in a very quick time span.
"I would say that for most firms it shortens the time span from between one and two years to about four or five months."
However, the TechShop centres don't have the space for companies to install production lines and base themselves there full time.
And so, once a business has used a Tech Shop to develop its product, the firm has to then go elsewhere to get the item made on a larger scale.
For Mr Gunawan this has meant him needing to get his Lumio lamp manufactured in China, as he was unable to find a workable supply chain in the US. However, he hasn't ruled out possible US manufacturing in the future.
Based in his own office across town in San Francisco, he has now sold 15,000 Chinese-made lamps since they went on sale in November of last year.
Another business which has used TechShop, and in fact continues to do so at present, is SolePower, which was founded in February 2013.
The Pittsburgh-based company has developed a shoe insole which generates electricity from a person's movement. The insole can be wired up to a small battery, with the stored energy being able to power a variety of mobile devices via a USB port.
The aim is to make the product available to buy by the end of this year.
A SolePower spokesman said: "Without TechShop it would have been extremely expensive for us to do rapid prototyping of our product.
"TechShop gave us the opportunity to make our parts ourselves, saving us money and time."