Japan consumer price growth at 32-year high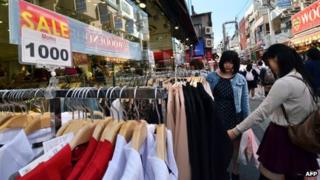 Consumer prices in Japan rose at an annual rate of 3.4% in May, the fastest pace in 32 years, as the effect of the sales tax hike started to be felt.
Japan raised its sales tax rate from 5% to 8% on 1 April.
The price growth in May follows a 3.2% jump in April and is a big boost for Japan's attempt to trigger inflation.
Japan has been battling deflation, or falling prices, for best part of the past two decades and that has hurt domestic demand and stifled growth.
The Japanese government has taken various steps over the past few months to try and reverse this trend, and the country's central bank has set a target of a 2% inflation rate.
The measures, which include boosting the country's money supply, have started to have an impact and consumer prices in the country have now risen for 12 months in a row.
Policymakers have been hoping that once prices start to rise, consumers and business will be encouraged to start spending and not hold back on purchases, as they may have to pay more later on.
Multiple impact?
The tax hike in April was the first in 17 years.
The increase comes as Japan is facing rising social welfare costs due to an ageing population.
At the same time, the country is trying to rein in its public debt - which at nearly 230% of its gross domestic product (GDP) is the highest among industrialised nations.
The tax hike is expected to help ease some of the financial burden of the government.
At the same time, the increase may also help to trigger inflation as businesses pass on the hike to consumers, resulting in increased prices of goods.
Some analysts said that the inflation data of the past two months indicated that so far businesses had been doing that.
Marcel Thieliant, Japan economist with Capital Economics said that "virtually the entire surge in the consumer price index (CPI) over the past two months can be attributed to April's consumption tax hike".