Standard Chartered warns of lower profits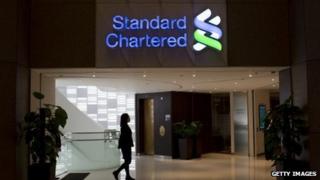 Standard Chartered has said first-half operating profits will be 20% lower than a year earlier, blaming a slump in income from its financial markets business.
The warning comes only three months after the Asia-focused lender reported its first fall in annual profits for a decade.
The UK bank had been expected to show a modest bounce-back this year.
But it said tougher regulations and low market volatility had hurt revenues.
Chief executive Peter Sands said: "This has been a disappointing first half, with difficult trading conditions, particularly in financial markets.
The news sent shares in the bank down 4.5% on the London Stock Exchange.
Standard Chartered said trading volumes in financial markets were subdued as clients had carried out less business due to low interest rates around the world.
The bank's financial markets business includes equities, commodities and foreign exchange.
Standard Chartered said its interest rate and foreign exchange trading had been particularly hit.
Chirantan Barua, an analyst at Bernsteinm said: "Cyclical headwinds are yet to arrive in full force in the bank's two key markets - Hong Kong and Singapore. Not that Korea or India is out of the woods either.
"Pack that in with a challenging and uncertain capital regime that won't be resolved until the end of the year and you have a great deal of uncertainty around the stock."
Separately, Standard Chartered said Lenny Feder, its head of financial markets for the past seven years, would be taking a sabbatical from the bank, starting on 19 July, and that it had started a search for a permanent replacement.