Sex tape adds to GSK China scandal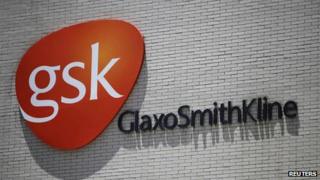 GlaxoSmithKline (GSK) has confirmed the existence of a sex tape of its former head in China, the latest twist in its corruption scandal in the country.
The secretly-filmed video of Mark Reilly and his Chinese girlfriend was emailed to several senior executives of the British firm in March last year.
Mr Reilly has been accused of ordering staff to bribe hospital officials to use GSK products.
GSK said it was continuing to co-operate with the Chinese authorities.
"The issues relating to our China business are very difficult and complicated," the firm said in a statement.
The revelation has added to the corruption scandal surrounding GSK in China, which has unravelled over the past year.
Internal investigation?
The Sunday Times reported that GSK had authorised Mr Reilly to hire Peter Humphrey, a British investigator based in China, to look into the origin of the video.
However, Mr Humphrey could not establish who planted the camera in Mr Reilly's bedroom, the two reports claimed.
Mr Humphrey and his American wife, Yu Yingzeng, were arrested by Chinese authorities in August last year.
According to China's state media, the couple have been accused of selling personal information of people to clients through research companies.
Chinese authorities launched an investigation into GSK in July last year over bribery allegations and detained four Chinese GSK executives.
When the investigation first began, the Chinese operation of GSK was accused by the Chinese authorities of using travel agencies and consultancies to pay 3bn yuan ($489m; £323m) in bribes since 2007.
GSK has previously apologised for employees in China apparently acting outside of its internal controls, but has denied that the sums of money were anything like as high as those alleged to have been paid.
The pharmaceutical giant is also facing a criminal investigation into similar allegations in Poland.
In May, UK's Serious Fraud Office (SFO) said it would investigate GSK's "commercial practices". At the time, GSK refused to comment on whether the SFO's criminal investigation was connected to any specific incident.