McBride set to cut 400 UK jobs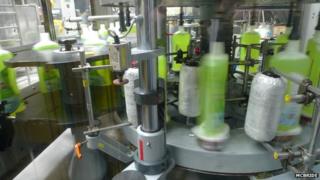 McBride, the maker of own-label household cleaning and toiletry products, has announced plans to cut about a quarter of its UK workforce.
The firm said that of its 1,600 UK staff, about 400 positions were expected to be made redundant.
The review of the company's business was triggered by worsening conditions in the UK retail sector.
McBride said it expected to make savings of about £12m by June 2016 as a result of the firm's restructuring.
'Robust plan'
McBride makes own-label products for retailers across Europe, but also produces its own brands, such as Oven Pride oven cleaner and Limelite limescale remover.
Its products, which include dishwashing tablets, washing powders, air fresheners and mouthwash, are sold in Aldi, Tesco, Sainsbury's and Asda, among others.
In addition to its UK factories in Barrow, Middleton, Bradford and Hull, McBride has plants in countries across Europe, including France, Belgium, Spain, Luxembourg, Italy, Poland and the Czech Republic.
"We are announcing a robust plan that will help restore our UK profitability," said chief executive Chris Bull.
"We will exit some business in non-core unprofitable categories, but our capacity to meet growth opportunities in our core categories remains unaffected.
"We will be entering into full and meaningful consultation with colleagues affected by these proposals."
In February, the firm reported a pre-tax profit of £3.7m for the six months to the end of December 2013.