Legoland park for Japan to be built by 2017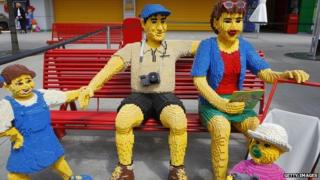 A new Legoland park will open in Nagoya, Japan, with doors opening to the public in 2017, operator Merlin Entertainment has announced.
The 32bn-yen (£185m) project will be the company's eighth park worldwide.
Merlin, the operator of headline UK tourist attractions including Madame Tussauds and Alton Towers, will invest £53m in the project.
Kirkbi, a company run by the original family behind the Lego brand, is also investing in the park.
Merlin, the London-listed company, which bought Legoland in 2005, said that ultimately it saw potential for 20 Lego-themed parks worldwide.
"We remain committed to our target of opening a new park every two to three years," said Merlin chief executive Nick Varney.
The company has yet to announce details of what the resort will contain, but the original Legoland park in Billund, Denmark, has provided the model for its other parks worldwide.
Typically they combine traditional theme park rides with detailed miniature Lego models of famous buildings and cityscapes from around the world.
Disney rival
Merlin already operates six parks in five countries, with a seventh due to open in Dubai in 2016. But until now, its only presence in Japan has been a smaller-scale, indoor, Legoland Discovery Centre in Tokyo.
Japan is Asia's largest theme park market, according to Merlin. The only other Legoland in Asia opened in Malaysia in 2012.
Rival park operator Disney has had a park in Tokyo since 1983. Last year, Tokyo Disneyland was the world's second-most visited park, after Disney World in Florida.
The new Legoland resort in Nagoya will be two hours from Tokyo, with a potential catchment of more than 20 million people.
The project will be jointly financed by the holding company Kirkbi, which is controlled by the Kirk Kristiansen family, the founder of the Lego brand and owner of the Lego trademark.