GM announces compensation fund for recall victims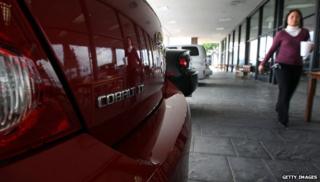 US car giant General Motors has said it will not limit the amount of money it will pay to those injured as a result of faulty ignition switches in GM cars.
Kenneth Feinberg, the compensation plan administrator, said victims would receive compensation of between $20,000 (£12,000) and several million dollars.
At least 13 people died as a result of the faulty parts.
GM has been severely criticised for its failure to issue a recall for vehicles affected by the ignition switch defect.
Although problems with the part came to light nearly 10 years ago, the carmaker did not start formally recalling 2.6 million vehicles until February of this year.
Airbag key
Mr Feinberg said that victims could include drivers, passengers, pedestrians or occupants of another vehicle that were hurt in a crash involving a GM vehicle.
A key factor will be if the airbag failed to deploy.
"If an air bag deployed, you're out," Mr Feinberg said at a news conference.
He said that those who negotiated out-of-court settlements with GM as a result of injuries or deaths caused by the faulty switches could renegotiate their payouts.
GM has collected evidence of approximately 3,500 death and injury claims.
The US car giant has been severely criticised by US regulators and politicians for its failure to recall vehicles in a timely manner.
Evidence presented in several US Congressional hearings has demonstrated that some of GM's engineers knew about the problems with the ignition switches - which could cause car engines to cut out unexpectedly and prevent airbags from deploying - as far back as 2004.
At least 15 GM employees have been fired for their role in the delay of recalls relating to the switches.
However, a report by former US Attorney Anton Valukas exonerated GM's chief executive, Mary Barra, and other top managers, saying that lower-level employees had failed to alert them to the safety issue.
Billions
GM has now recalled nearly 20 million vehicles in the US this year - more than the company sold in 2013.
Safety actions have cost GM a total of $2bn (£1.2bn) this year, and many expect the costs of the victims' compensation fund could run into billions.
The car maker was also fined $35m by the National Highway Traffic Safety Administration (NHTSA) for its failures to report the safety defect. That was the maximum amount allowed under US law.
The compensation fund will accept applications between 1 August and 31 December.
A website set up for claimants says compensation will be paid within 90 to 180 days after a claim is deemed "substantially complete".