GM recalls 8.4 million more cars due to ignition defect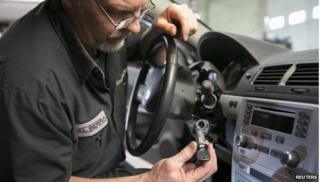 Embattled US car giant General Motors is recalling another 8.4 million cars, including 7.6 million in the US.
They are mostly vehicles manufactured between 1997 and 2014 and are being recalled for ignition switch defects.
Among the recalled vehicles, GM says it is aware of seven crashes, eight injuries and three fatalities.
GM said it would take a charge of $1.2bn for recall-related repairs - up from the $700m it had previously estimated.
However, GM said there was "no conclusive evidence" that the switch defects directly caused the crashes.
"We undertook what I believe is the most comprehensive safety review in the history of our company because nothing is more important than the safety of our customers," said GM chief executive Mary Barra in a statement.
"Our customers deserve more than we delivered in these vehicles."
The recalls come on the same day GM announced details of a compensation fund for recall victims.
Kenneth Feinberg - the man GM appointed to deal with compensating those affected by the recalls - has said that the carmaker will not put a cap on the amount it will pay to victims.
Separately, Orange County in the US state of California revealed it had filed a civil lawsuit against GM last Friday.
The Orange County District Attorney alleged that GM "endangered the public through deception regarding vehicle safety and reliability and gained advantage over its competitors by engaging in unfair business practices".