South Africa hit by engineering strike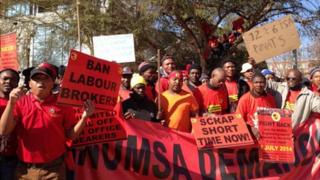 Engineering and metal workers in South Africa have gone on strike after talks on Monday failed to reach an agreement over pay.
The country's largest union, the National Union of Metalworkers of South Africa (NUMSA), claims that more than 200,000 members are striking.
The union is demanding a 12% wage increase, almost double the rate of inflation.
So far employers have offered an 8% pay rise.
Marches have been taking place in six major cities across the country, including Johannesburg, Cape Town and Durban.
A few thousand people were gathered at a rally in central Johannesburg, where they shouted slogans and danced.
"I'm striking because I'm working but I'm getting peanuts," said one man.
"I've got 50 years of age, and I've got 30 years working at that company, and I'm earning 29 rand ($2.72) per hour, which is an insult to an old man like me"
One woman declared "No! We don't want 8% or 10%, we want 12% or 15%! Because we've been struggling at the company we've been working at."
Long list of demands
NUMSA also wants to receive a housing allowance of 1000 rand ($94;) a month.
The union's secretary-general Irvin Jim has said it will not settle for less than a double-digit increase.
"We have a long list of demands that has been reduced because we have to be objective," he told the BBC.
"Originally we had a mandate for demanding 15% [pay increase]... but we have reduced that to 12%".
The union has about 340,000 members in total, but only around two-thirds were planning to go on strike.
---
Analysis
Lerato Mbele, BBC News, Johannesburg
As the winter morning warms up, about 5,000 members of the National Union of Metalworkers of South Africa gathered at the Mary Fitzgerald Square.
It's the music & theatre district of Johannesburg, appropriate because as the workers arrive in waves, they sing, chant and perform war dances.
The songs are about their struggle as the working class. Many are holding up placards stating their negotiating position.
Here at the rally point workers demand a wage increase of 15%, despite the union leaders formally demanding 12% in the wage talks.
It is a sea of red and gold Numsa t-shirts, and there is obviously no sign of employer representatives.
Other than the singing and sloganeering the protest has begun on peaceful note and the mood is somewhat festive.
---
Big projects
The strikes are most likely to affect small and mid-sized engineering firms.
Rapid Allweiler manufactures industrial pumps at its factory in Johannesburg. Of the 42 staff employed in its workshop, only six turned up to work today.
Its chief executive, Caroline Houghton, said an increase in wages would be unaffordable for their business.
"The problem is they are expecting a 12% wage hike, but metal prices have gone up. We can't pass on a 12% increase to our clients because of the competition coming in from China, India and Italy."
She also fears that the series of strikes in the country will turn investors away.
"People are feeling a bit scared to invest in the country. Day to day business is happening, but the big projects are being shelved."
Essential service
The union is also demanding a pay increase at energy utility, Eskom, and says it will picket outside the firm's headquarters on Wednesday morning.
The power company supplies the vast majority of South Africa's electricity and is deemed an essential service, therefore any strike would not be legal.
There are concerns that if the picket turns into a strike, then South Africa's already fragile power sector could be vulnerable to disruption.
However, Mr Jim believes it should be allowed to strike and blamed Eskom's management for giving "bonuses to themselves" without seeing the "need to give workers a living wage".
Damaging effect
"With Eskom we have said to them for years now, let's sit down and deal with the issue of demarcation, because as a union we firmly believe it is not true that the whole of Eskom is an essential service.
"We could have departments that will not affect electricity... and they could be able to carry the plight of other workers by embarking on a legally protected strike," he said.
This latest industrial action comes only a week after the end of a five-month long strike at South Africa's platinum mines, which crippled the sector.
In the first three months of this year, South Africa's GDP shrank by 0.6%, the first contraction since 2009.
Last year a four week strike by 30,000 members of NUMSA cost the automotive sector US$2 billion.
Should the union's strike be prolonged, there are worries it could have a damaging effect on the South African economy.