La Senza lingerie chain falls back into administration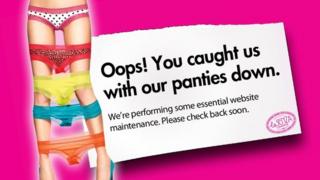 Lingerie chain La Senza has fallen into administration for the second time in two years.
The company runs 55 franchise stores in the UK and currently employs 752 staff.
Administrators said there were "no immediate plans to close any stores" and appealed for those interested in buying the enterprise to come forward.
La Senza UK previously went into administration in January 2012, closing more than 80 branches.
Robert Moran of PwC, which has been appointed as joint administrator, said: "Like many other retailers, La Senza has been hit hard by the difficult economic environment and a slowdown in consumer spending."
Mr Moran added that "there are no immediate plans to close any stores" and that "staff have been - and will continue to be, paid for their work".
The company behind La Senza, Marnixheath, also runs three frozen yogurt shops under the Pinkberry brand, at Westfield Stratford, Bluewater shopping centre in Kent, and Selfridges in London.
La Senza's stores in the UK are separate from those in Canada, which are unaffected by this announcement.
The UK and Ireland franchise was bought in 1998 by entrepreneur and Dragon's Den star Theo Paphitis, who revived its fortunes and sold his stake to Lion Capital for £100m.
When the chain went into administration in 2012, Mr Paphitis mourned the decline of a "very profitable company".
"It's sad because it's a company that I used to consider was my baby back in the early 2000s and it's sad to see it go off the High Street," he said.
"But it's a sign of the times, I suppose."