L'Oreal US settles 'deceptive advertising' case with US regulator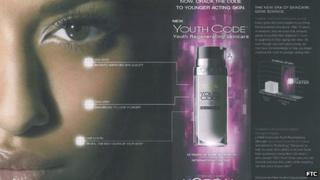 The cosmetics company, L'Oreal, has agreed to settle a case with US regulators over charges of deceptive advertising.
A campaign for its Genifique products claimed its products would lead to "visibly younger skin in just seven days" by targeting the users' genes.
The US consumer regulator said that the adverts were "false and unsubstantiated".
L'Oreal said the claims in question had not been used "for some time now".
"It would be nice if cosmetics could alter our genes and turn back time," said Jessica Rich, director of the Federal Trade Commission's Bureau of Consumer Protection.
"But L'Oreal couldn't support these claims."
As part of the settlement, L'Oreal USA is barred from making any anti-aging claims unless it has "competent and reliable scientific evidence substantiating such claims", the FTC said.
The advertising campaigns ran across TV, radio and online and claimed that the Genifique product was "clinically proven" to "boost genes" activity and stimulate the production of youth proteins which would lead to "visibly younger skin in just seven days".
The product Youth Code was also part of the complaint. Its advertising claimed to herald "the new era of skincare: gene science" and that consumers could "crack the code to younger acting skin".
L'Oreal pointed out that the proposed agreement imposed no monetary penalties, as well as stating that L'Oreal USA did not admit any improper advertising practices.
"The safety, quality and effectiveness of the company's products were never in question," said L'Oreal USA spokeswoman Kristina Schake in a statement.
"Going forward, L'Oreal USA will continue to serve its customers through industry-leading research, scientific innovation and responsible advertising," she added.