Poundland sales near £1bn as chain expands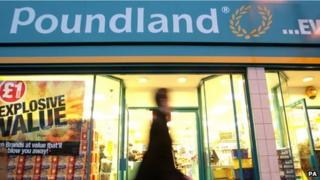 Discount retailer Poundland has reported nearly £1bn in annual sales and suggested it could double its store presence in the UK.
The retailer said total sales for the year to 30 March rose 13.3% to £997m compared with £880.5m a year earlier.
Poundland opened 70 new stores in the UK in the year, taking its total number of retail outlets to 528.
Poundland's head told the BBC that research for the firm suggested it could open more than 1,000 UK stores.
Growth prospects
The results are the retailer's first since the company listed its shares on the London Stock Exchange in March.
Poundland chief executive Jim McCarthy told BBC Radio 4's Today programme that the retailer's research suggested it could open as many as 1400 stores across the country but "internally we use 1,000. It's a nice round number."
He added that he was unconcerned about the firm's growth prospects as the economy recovered, saying that although it seemed counter intuitive, "Poundland and other discount retailers do better as consumer confidence improves".
The figures are the retailer's first since the company listed its shares on the London Stock Exchange in March.
Poundland reported a 19% fall in pre-tax profits to £21.5m for the year, compared with £26.5m a year. earlier.
But it said the fall in profits was mainly due to one-off charges associated with its flotation on the stock market in the March.
Underlying pre-tax profit for the year rose 23.5% to £36.8m.
'Structural change'
Andrew Higginson, chairman of Poundland, said the retailer's maiden results showed it was continuing to build on its strong growth record.
"I expect that Poundland will continue to benefit from its strong trading platform, its universal appeal and the structural change in consumers' shopping behaviour," he said.
Like-for-like sales - which do not count sales at stores open less than a year - were 1.9% higher. That compared with a 1.7% fall in like-for-like sales a year earlier.
Poundland opened its first store in Spanish holiday resort of Torremolinos on Wednesday and plans to open a further 10 stores across the country over the next two years.
Shares in Poundland rose more than 4% to 344p in early trade. The retailer's shares originally floated on the market at 300p.
Poundland also said that sales in the three months to the end of June rose 18% to £262.2m compared with £222.6m for the same period a year earlier.
Mr McCarthy said: "After a pleasing start to 2014-15 we are confident of further progress through the year whilst recognising our critical third quarter lies ahead of us."