Barclays apologises to cardholders after IT glitch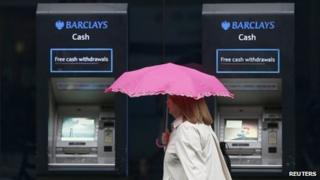 Barclays bank has apologised to its customers after they complained on social media site Twitter about being unable to withdraw cash from cash machines.
A spokesman for Barclays told the BBC that they experienced a temporary fault on the system, which was "not a localised problem".
The spokesman said it only lasted for 20 minutes and all cards and machines should now be working.
The bank apologised to those affected.
The problems are thought to have begun at about 3pm on Friday.
Barclays Bank said: "There was a technical issue lasting a short time which impacted a small number of transactions with Barclays.
"We have worked swiftly to resolve the matter and would like to apologise to those who were affected. All other services, including online banking and Pingit continued to work as normal."