How chancellor woos India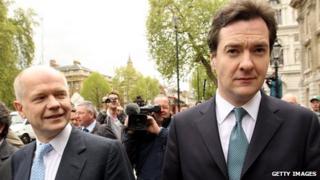 I am currently running on two hours sleep and a mild vegetable curry I had for breakfast in my hotel.
So I feel considerably less full of vroom than the tractors and cars made by the Mumbai plant of the Mahindra Group, where I have been traipsing behind the chancellor as he tours the factory floor, in the atmospheric conditions of a Turkish bath.
For George Osborne, it's hours of beaming over gear boxes and transmission systems, as if they were beautiful newborn babies.
Welcome to the grounding reality of winning foreign direct investment for the UK.
Not mega
Mahindra represents an interesting case study of how to persuade overseas companies to place their bets on Britain.
Today it announced a £20m UK investment in electric-car research and development for Formula 1 vehicles.
OK, so not exactly megabucks. But Mahindra's automotive president, Dr Pawan Goenka, told me that the point was to develop technology that could be used for ultra-low-emission mass-market cars - and that would be a big deal.
Dr Goenka also gave me an insight into how hard it is to secure only £20m: it required the British Prime Minister David Cameron to have a private meeting with him.
Also it turned into a reality, thanks to subsequent spadework by Oliver Letwin, the cabinet office minister.
Investment
As I implied, £20m is hardly going to transform either the UK or Mahindra.
But Mr Letwin told me he sees it as the proverbial mackerel-catching sprat.
What did he mean?
Well Dr Goenka told me Mahindra would within six months decide on a much more substantial £100m research investment.
He said UK government subsidies would be helpful, if Mahindra goes ahead.
But the bigger prize would be mass-market production of electric cars.
I asked Dr Goenka how likely it was that Mahindra would become a big manufacturer in the UK, and not just an exploiter of valuable UK technology.
All he would say is that his company was minded to do something in Europe... one day.
Hmmm.
Mr Cameron and his chancellor will need to do a good deal more cooing over Mahindra's babies, to win its big money.
Which may say something about where the real power lies, in a globalised economy that allows multinationals like Mahindra to invest their precious job-creating cash more or less wherever they choose.