How Gandhi became George Osborne's hero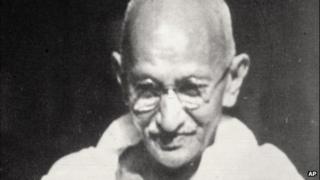 That Mahatma Gandhi will be commemorated with a statue in Parliament Square is perhaps extraordinary - given that he was the leader of the nationalist movement against British rule in India.
But the whole thrust of British diplomatic relations these days with India is to build bridges with the world's second most populous country - in large part because of the important opportunities that may become available for British businesses.
The plan for a Gandhi statue, to be installed next year, has been announced in Delhi by the chancellor and foreign secretary.
George Osborne said it was fitting that "the father of the world's largest democracy should take his place in front of the mother of parliaments" (though the chancellor presumably knows the House of Commons is not the mother of parliament, in John Bright's original formulation; England is).
Whether Mahatma Gandhi would have thought it fitting is another matter.
Later today, Mr Osborne and William Hague will meet the new Indian prime minister, Narendra Modi, with the hope that he will agree to a communique on strengthening and deepening commercial relations between India and Britain.
But the British government and Narendra Modi have not always been the best of friends, because in 2002 the UK helped to organise an effective ban on Mr Modi travelling to Europe - after Mr Modi was accused of not doing enough to prevent a brutal massacre of Muslims in Gujarat, where he was chief minister.
In 2012, the UK made a rapprochement with Mr Modi, when his ascent in Indian politics became hard to ignore.
And although there have been concerns that Mr Modi might hold a grudge, everything is apparently forgiven and forgotten - on both sides.
If there is some sort of parallel with the way Britain over a much longer period has gone from seeing Gandhi as enemy to hero, Messrs Osborne and Hague will hope that Mr Modi approves.