Open 2014: Asian Tour looks for upswing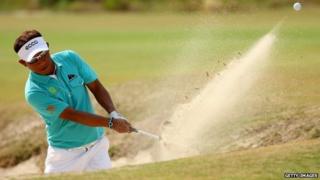 As the British Open gets into full swing one continent will be hoping that a good showing by its players can boost the game in its part of the world.
Ten players with links to the Asian Tour have qualified for the Open at Royal Liverpool this week, and impressive performances would have positive sporting and financial spin-offs.
"The majors are obviously the pinnacle of a player's career, so I think it is incredibly important for our players to do well at the Open," says Asian Tour chief executive Mike Kerr.
"I think we are going to see the players who are coming through the Asian Tour become more established in future years, and a good performance at the Open can help as they look to move on to the PGA and European tours.
"From the perspective of the business of golf in Asia the Open is a time when our players are profiled on a wider stage.
"That boosts the credibility of the Asian Tour, and can help the players and tour win more endorsements and sponsorship deals."
'Slow burn'
Among those taking part are three-time Asian Tour order of merit winner Thongchai Jaidee from Thailand, the world number 34, as well as previous order of merit winners Kiradech Aphibarnrat and Juvic Pagunsan, and current Asian Tour leader Anirban Lahiri.
Another is 2009 PGA Championship winner Y E Yang of South Korea, now on the PGA Tour but who started on the Asian Tour.
"We would like to see more of our players move into the world top 50," says Mr Kerr, who hails from Northern Ireland. "But the way the rankings are managed, it is a slow burn.
"However, our assumption is that Asian golfers are going to continue to perform and will eventually establish themselves in the world golf rankings."
Across Asia the sport has seen an upswing in popularity, allied with the region's economic growth and emerging middle class - who are taking up golf in growing numbers as both a leisure pursuit and a sign of status.
Asian Tour
Started by Asia's professional golfers in 2004
Staged and sanctioned 264 tournaments in 18 countries, and broadcast in 180 countries
Offered more than $300m (£175m) in prize money since it started
Big name sponsors include Rolex, Titleist, Singha Beer, Oakley and Weibu
The tour, and the Asian Development Tour for emerging players, have approximately 400 golfers
In 2014 the inaugural EurAsia Cup was played in Malaysia between Europe and Asia, ending in a draw
It will be staged again in 2016 and 2018
"The spending power of the emerging Asian middle class means the opportunity for golf is immense," says Mr Kerr.
"We believe there are some 240 million golf fans in Asia - when you start to understand the size of the golf industry in our region it is phenomenal. That bodes well for the sport and business of golf."
The 43-year-old says Asian golf brands and business - such as golf club and clothing makers, golf course designers and golf tourism operators are all poised to benefit.
It is not just in China and India that the sport is making inroads, but also in countries such as Indonesia, Thailand and Singapore.
"It is a two-way street, a virtuous cycle," says Mr Kerr. "The more the leisure and grassroots game grows, especially among young people, then the more players who will eventually break into the professional game.
"And the more that Asian professional players become recognised, the more that stimulates the grassroots and encourages people to take up the game.
"It is only a matter of time before the professional circuit sees the arrival of a big Asian star."
Tour co-operation
In terms of prize money the Asian Tour is the third largest after the PGA and European tours.
In 2013, Asian Tour order of merit winner Kiradech Aphibarnrat earned more than $1m. Meanwhile, the tour's top 60 players each earned an average of $190,000.
Mr Kerr puts the overall financial size of the Asian Tour market at $150m, whereas 10 years ago it was just $35m.
"If you consider all pro golf in Asia, it is a business of around $200m-$250m," he adds.
As well as its standalone tournaments, the Asian Tour also jointly hosts events with the European Tour, the Japan Golf Tour, the US PGA Tour, and is also looking for tie-ups with South Africa's Sunshine Tour.
"In future we will see more co-operation between bigger tours," says Mr Kerr. "That will include ourselves, as Asia comes to represent a bigger global opportunity for the professional game."
'Competition'
One fly in the ointment is that Asian golf is split into two competing tours. As well as the Asian Tour there is the One Asia circuit, a rival tournament that started in 2009.
"In most businesses you have competition," says Mr Kerr. "One Asia is competition to the Asian Tour - that is not different from other industries.
"It does not cause us problems. But it may cause uncertainty in the market when it comes to sponsor interest."
As chief executive, Mr Kerr looks at possible new tournaments and sponsors, as well as ways of increasing the earnings potential of players on the Asian Tour.
He says another goal is to develop a better relationship with Chinese golf authorities.
"We are moving in the right direction," he says. "The growth potential for golf in Asia is huge.
"In time we will also see young Asian golf players break through into the world top 50. I think we will see that happening in the next three years, if not sooner."