US cupcake chain Crumbs Bake Shop shuts stores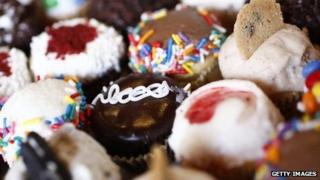 US cupcake chain Crumbs has said it will shut all its shops, a week after its shares were suspended from trading on the Nasdaq index.
"Regrettably Crumbs has been forced to cease operations," it said. The firm said it was now evaluating "its limited remaining options".
Crumbs listed on the stock market in 2011 at the height of the cupcake boom.
It had 65 shops in 12 states and Washington DC as of the end of March, according to its website.
Crumbs, which was founded in 2003, sold cupcakes in flavours such as red velvet cheesecake, peanut butter cup and cookie dough, with some of them containing more than 600 calories.
It sold the cupcakes in sizes varying from a one-inch taster cake to its "colossal" six-inch cake serving six to eight people.
Its fortunes began to decline as its cake sales slowed.
Crumbs reported a loss of $18.2m (£10.6m) last year, which came on top of a $10.3m loss in 2012.
The firm warned in May in an official filing that it "may be forced to curtail or cease its activities" if its operations did not generate enough cash flow.
As of the end of last year, Crumbs listed 165 full-time employees and about 655 part-time hourly employees as working in its stores.
---
Analysis - Michelle Fleury, New York Business Reporter
I should begin with a confession.
I often used to visit the Crumbs shop located a few blocks from the New York Stock Exchange.
Sometimes it was just to pick up cupcakes for a colleagues birthday. At other times, it was for a mid-afternoon sugary treat.
But these days I'm more likely to be tempted by a treat from a passing food truck.
The demise of the cupcake chain is a reminder that food trends - like fashion trends - pass. Anyone remember the once ubiquitous doughnut chain, Krispy Kreme?
In the case of Crumbs Bake Shop, it expanded too quickly. And with the barriers to entry so low, there was no shortage of competition.
Crumbs was unable to move beyond its giant cupcakes and it paid the price.
A shame - I'll miss my sugar fix on my way out of the stock exchange.