Entrepreneurs chasing the silver dollar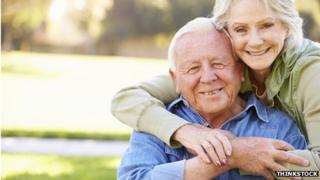 It's no secret that the world's population is getting older.
According to the United Nations there will be two billion people over the age of 60 by 2050 - more than double the number today.
How to cover the costs of an ageing population is concerning governments around the world. But for businesses the prospect of a silver economy has a silver lining - the "silver dollar".
"The message is that we can't afford old people. But that's economically untrue," says Jody Holtzman of AARP (formerly called the American Association of Retired Persons), a US advocacy group for people over 50.
"Only in Washington [among politicians] is the task of addressing the unmet needs of 100 million people in the US seen as a financial burden. In the private sector that's called an opportunity."
The economic activity generated by people over 50 in the US is worth an estimated $7.1 trillion (£4.1tn) per year, according to AARP.
It adds that this figure includes $3tn spent on consumer goods, and $1.6tn on healthcare, helping to create and sustain millions of American jobs.
With that much money being spent, it is perhaps no surprise that an increasing number of North American entrepreneurs and small firms are seeking to meet the needs and wants of the elderly.
'Freedom not fear'
California-based GreatCall specialises in providing elderly men and women with help and support via specially adapted mobile phones.
Its handsets have a dedicated button which, when pressed, calls one of GreatCall's trained health and safety experts.
The GreatCall agent then offers medical and safety advice over the phone, or alternatively calls emergency services on the elderly person's behalf, after assessing the problem using additional personal information (such as previous health problems, provided at the time of registering) and GPS tracking.
The system can cut down on unnecessary and stressful hospital treatment, and gives customers a greater degree of independence.
GreatCall chief executive David Inns used to work as a senior marketing manager at Canadian mobile phone group Bell Mobility before setting up the firm in 2006.
However, he quickly realised that creating a useful product is one thing, but marketing it to the target customer is quite another.
After canvassing work he found that elderly people do not like being called "old", and are less likely to buy products that reinforce negative perceptions of ageing.
"There were words they had a visceral reaction to, and there were words that made them feel very comfortable," he says.
"[So] instead of 'fear' it was 'freedom'. Instead of 'vulnerability' it was 'confidence'."
With a rising number of technology firms in particular now going after the silver dollar, Mr Inns cautions that they have to be careful to research the actual needs of the elderly.
"There are so many people coming into this market who are thinking way too much about the technology first, as opposed to looking at the older consumer population, identifying a specific need, and then designing the technology around that need," he says.
'Understanding the elderly'
Thankfully for technology firms thinking of going after older customers, but who are concerned that they don't know exactly what the market wants, help is available from experts in the field.
"That's where I come in because I understand seniors," says Prof Andrew Carle, an expert in senior health and housing at George Mason University, Virginia.
"I'm trying to bridge the great divide between geeks and grannies."
"I go to conferences and see all these technology people from great schools who are excited about something they've invented [for elderly people].
"But unfortunately [their product is] not going to work with an 85-year-old widow. They just don't understand the people they're trying to help."
The power of the silver dollar
The global spending power of consumers aged 60+ will reach $15tn per year by 2020
The 55+ age group account for half of all home improvement spending in the US
Baby boomers spend $120bn a year globally on travel
People over the age of 50 account for 64% of casino visitors in the US
European women aged over 60 buy twice as many skincare products as women under 25
Source: Merrill Lynch
Prof Carle says other technology companies often do not realise they already have a product that could be useful to older people.
Los Angeles-based GTX is a case in point.
Founded in 2002 and employing 20 people, it specialises in wearable technology. One GTX product aimed at athletes is a GPS tracking device placed in the sole of a running shoe, called the GPS Smart Sole.
Prof Carle got in touch with the company and suggested marketing the same technology to patients with Alzheimer's disease, a form of dementia which afflicts more than five million people in the US.
Alzheimer's sufferers often wander and get lost - as a result, many are placed in expensive care facilities for their own safety.
But wearing a tracking shoe that can be monitored by a relative or other caregiver is a low-cost alternative that can enable patients to live at home for longer.
GTX began testing its newest smart sole among dementia patients earlier this year, and plans to launch the product next month.
"We are adapting ourselves to where the market needs are," says GTX director Andrew Duncan.
"We expect several million dollars in revenue next year in relation to our insole products in the senior care, assisted living market."
'Make the difference'
Some "low-tech" entrepreneurs have been targeting the silver dollar for some time.
Julie and William Buck started their adaptive clothing business in Seattle 37 years ago.
Mrs Buck was an administrator at a nursing home and realised there was a great need for functional clothing that was easy to wear and remove.
Their company, Buck & Buck, now employs about 25 people and sells its garments around the world.
The clothes are mainly manufactured in the US and are sold online or via catalogue orders. They are increasingly sought after by people who want to live at home but have difficulty dressing.
"Velcro behind buttons on a shirt can make all the difference for somebody who wants to continue to self dress - nobody will know they can't do buttons any more," says Mrs Buck.
"It's simple things - looking at what [elderly] people need and trying to figure out how to solve it."