Emirates and Boeing finalise order for 150 777X aircraft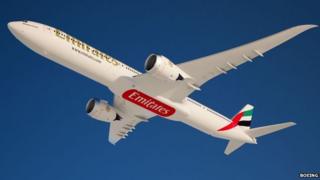 US plane maker Boeing and Emirates Airline have finalised a deal for 150 new 777X mini-jumbo jets.
The deal, worth $56bn (£33bn) at list prices, was agreed at the Dubai Airshow in November.
The agreement includes a provision for Emirates to increase its order by a further 50 aircraft.
Boeing plans to start producing 777X planes in 2017, and has set itself a target of 2020 to deliver the first aircraft.
"With the order for 150 777Xs, Emirates now has 208 Boeing 777s pending delivery, creating and securing jobs across the supply chain," said Emirates president Sir Tim Clark.
"The 777X will offer us operational flexibility in terms of range, more passenger capacity and fuel efficiency, and we look forward to inducting them into our fleet from 2020."
The Emirates order includes 115 777-9Xs and 35 777-8Xs. To date, Boeing has orders and commitments for about 300 777X planes for six customers.
Last month, Emirates cancelled an order made in 2007 for 70 Airbus A350s.
Airbus said the cancellation had been made after "ongoing discussions with the airline in light of their fleet requirement review".