Sainsbury's against relaxing Sunday trading hours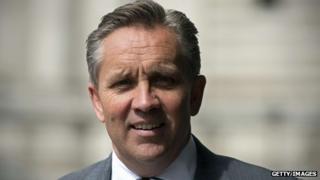 Sainsbury's former chief executive Justin King said the company is against moves to relax Sunday trading rules in England and Wales.
Speaking to BBC Business Editor Kamal Ahmed on his last day as chief executive, Mr King said "we are not supportive of it".
Larger shops are currently limited to six hours of trading on a Sunday, while small shops can open for longer.
Parliament is due to consider relaxing those laws in the autumn.
But Mr King said: "We are not supportive of it. It is not a big issue for customers.
"The status quo is a very happy British compromise."
The Sunday Trading Act, which came into force 20 years ago in England and Wales, allowed shops to open on a Sunday.
But larger stores were restricted to six hours of trading - partly to protect smaller shops from further competition from big stores.
Conservative MP Philip Davies has been leading the push for further deregulation and he says that such an argument does not really make sense any more, particularly now that supermarkets can take orders online and deliver them when they like.
Speaking the BBC earlier this month he said: "I'd like to see Sunday trading deregulated - I'd like to see it being the same as Scotland where all businesses can trade any time, any day of the week."