China's trade surplus narrows in June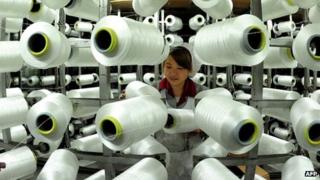 China's trade surplus narrowed to $32bn (£18bn) in June after export growth slowed and imports increased, showing the economy is still stabilising after a weak start to the year.
Exports rose by 7.2% from a year earlier, which was below market expectations for a 10.6% increase.
Imports also missed forecasts, rising by 5.5% due to sluggish demand.
Asian stocks fell in reaction to the data, while the Australian dollar lost some of its gains before recovering.
Economists say unless more stimulus measures are taken, they doubt China will be able to achieve its annual growth target of 7.5% this year.
"Together with weak inflation data, we think the domestic demand remains weak," Wang Jun from the China Centre for International Economic Exchanges in Beijing said.
"For the economy to rebound in the second half of this year, we believe more policy support is necessary due to the unsteady recovery base."
Price pressures
China released its latest inflation figures on Wednesday, showing that price pressures have diminished amid lower food prices.
Low inflation is good news because the value of consumers' incomes is preserved, allowing their money to go further. It also gives the authorities more room to manoeuvre when setting policy.
Consumer prices rose by 2.3% in June from a year ago, which was an improvement from May's increase of 2.5%.
Producer prices fell by 1.1% from a year earlier in June after energy prices fell.
Bill Adams, senior international economist for PNC Financial Services Group said China is now turning their focus to other areas of the economy.
"Inflation is no longer the binding constraint on credit growth in China; instead, financial stability risk is," he said.