Banco Espirito Santo: Portugal seeks to calm fears over bank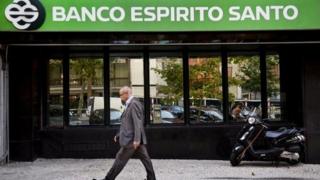 Portugal's central bank has sought to steady investors' nerves by stating that Banco Espirito Santo does not need extra funds.
Banco Espirito Santo itself has said it has sufficient finances to deal with its parent company's debt problems.
Worries about the financial strength of the bank's parent company hit global stock markets on Thursday.
The central bank said investors had "no reason to doubt" the security of funds, and savers had "no need to be worried".
Restructuring plan
On Thursday, shares in both Banco Espirito Santo (BES) and Espirito Santo Financial Group - which holds a 25% stake in BES - fell sharply on worries about the financial health of the Espirito Santo group.
Lisbon stock market regulators suspended trading in BES shares after they plunged by more than 17%. After the ban was lifted around midday on Friday, the shares gained close to 4% to 0.53 euros.
The overall Portuguese market was more than 2% higher meanwhile, after losing 4% on Thursday.
On Thursday evening, Banco Espirito Santo said it was "waiting for the release of the restructuring plan of Espírito Santo Group in order to assess the potential losses related to its exposure".
"BES Executive Committee believes that the potential losses resulting from the exposure to Espírito Santo Group do not compromise the compliance with the regulatory capital requirements."
Borrowing costs
The country's Prime Minister echoed the Portugal central bank's message that BES was not in need of support.
Mr Pedro Passos Coelho said: "There is no reason for the state to intervene in a bank which has solid capital and which has a comfortable margin to deal with any eventuality, even the most adverse".
Nordine Naam, a strategist at financial group Natixis said: "The Bank of Portugal... has reassured the market and calmed the situation."
The events triggered a fresh outbreak of nerves about European banks, sending stock markets in Europe and the US lower.
There were concerns that the bank's troubles could have a wider impact on Portugal which only two months ago exited the bailout programme.
At the height of the financial crisis, Portugal was forced to take a 78bn euro ($106bn; £62bn) bailout from its European partners and the International Monetary Fund.
Government borrowing costs fell to an eight-year low of 3.58% in April this year, but worries surrounding BES and the health of the country's financial sector pushed these back up towards 4% on Thursday.
Market strategist Stan Shamu said: ``I suppose the question on investors' minds is whether this latest Portugal banking crisis will lead to contagion in the region."
"Judging by the reaction in the single currency, then possibly the market doesn't quite feel this is the case.''