Farnborough Airshow: Reasons for UK aerospace to be cheerful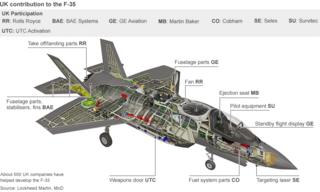 The Farnborough Airshow is very much an international event, but it is still an occasion for the domestic aerospace and defence industry to put its best foot forward.
BAE Systems, Rolls-Royce and GKN are among the top tier of companies schmoozing potential customers, but further down the supply chain there are hundreds of smaller firms promoting their wares to the world.
After years of painful restructuring - which is still going on - and with the UK government seemingly delivering on promises to help the industry, the airshow finds the domestic sector in a more positive mood than for many years.
"I'm not saying everything is sorted but we are unquestionably on the right track," says Paul Everitt, chief executive of ADS Group, the trade body for the UK's aerospace and defence sector.
A study by the Centre for Economics and Business Research (CEBR), commissioned by ADS ahead of Farnborough, found that the UK aerospace industry grew 9.4% last year.
UK aerospace firms: Five biggest barriers to growth
Fall in spending by existing customers (32%)
Inability to secure external finance (23%)
Uncertain global economy (19%)
Lack of skilled workers (17%)
Lack of sufficient internal finance (17%)
Source: ADS/GfK NOP survey
With almost 3,000 UK companies operating in the sector, employing about 109,000 staff and generating annual revenues of £27.8bn, aerospace remains one of the UK's most significant industries.
"Unlike the UK volume car industry that for the most part merely assembles cars here in the UK using imported parts, the UK commercial aerospace industry has managed to retain a large, efficient and very well invested supply chain," says analyst Howard Wheeldon.
Two-thirds of UK aerospace companies expect to grow by more than 10% over the next year, according to the CEBR report, and almost three-quarters say they plan to increase investment.
Although the US and Europe still make up 70% of the industry's exports - accounting for £2.4bn and £5.4bn of sales respectively - other markets are increasingly important.
'Under-investment'
Exports to China were just £200m in 2013, but that was still 23% up on the previous year. Sales to the Middle East were up 75%, helped perhaps by the United Arab Emirates' ambition to build a domestic aerospace industry.
Problems remain, such as skills shortages and access capital for an industry where payback on investment is often five to 10 years away, but Glynn Bellamy, UK head of aerospace and defence at KPMG, says the sector has "undoubtedly come through the global downturn well".
"Trouble is, we are now living with 20 years of under-investment," he says. "[However] the aerospace industry has not seen a dip over the last few years, and I would expect that to continue."
Key to this growth has been the ability to tap into a huge global demand for civil aircraft.
Boeing and Airbus have a record order backlog of more than 11,000 aircraft, providing an estimated nine years' work for UK industry.
"As long as orders from airlines for Airbus and Boeing aircraft keep rolling in it will be good news for the UK, because we contribute so much content to both," says aviation consultant John Strickland. "We produce leading-edge technology for both, and that means high-value jobs across the economy."
Feast or famine
Increased air travel in Asia, Africa and South America over the next 30 years is forecast to drive demand for at least 29,000 new large planes, according to estimates by both Boeing and Airbus. Demand for small aircraft, private jets and helicopters is put at more than 70,000.
"Rolls-Royce is currently the only engine option on the new Airbus A350. There's an awful lot of work there that's helping to drive demand through the supply chain," says Glynn Bellamy.
Airbus also has its wing-making operation in the UK, which sends a cascade of work down the pipeline.
The long lead times on big industrial projects can be feast or famine for sub-contractors, depending on whether programmes are ramping up or winding down.
That is especially true in the defence sector, where contracts can stretch out a decade or more.
UK defence firms: Five biggest barriers to growth
Fall in spending by existing customers (46%)
Lack of UK business opportunities (24%)
Uncertain global economy (22%)
Lack of skilled workers (20%)
Uncertain UK economy (17%)
ADS/GfK NOP survey
It is often not clear where the aerospace industry ends and the defence industry begins. Companies frequently operate in both realms, and many are diversifying into new areas such as cyber security and communications to help offset military spending cuts in the US and Europe.
But the CEBR study estimates that the number of UK employees working on defence-related projects is 162,400. The industry has a turnover of £22.1bn, and defence exports contributed almost £10bn to the UK economy last year, an 11% rise on 2012, the CEBR says.
Defence work is underpinned by some huge programmes begun more than a decade or so ago, such as the new aircraft carriers for the Royal Navy, the Eurofighter Typhoon aircraft, and Lockheed Martin's mammoth F-35 fighter jet project, which may or may not make its UK debut at Farnborough later this week.
The graphic below details some UK-based companies involved in the F-35, but in fact about 500 British firms have worked on the $400bn (£230bn) project.
BAE Systems, which is taking the lead on UK work for the F-35, has invested £150m in new F-35 facilities at its Samlesbury site, in Lancashire, where it works on the F-35's fuselage and tailfins. Some 2,000 staff are involved.
If, as Lockheed claims, there is a market for 4,000 F-35s the pipeline of work will stretch for years.
"It's not just the manufacture and development that matters. It's the support, upgrades and refits that will be needed over the coming decades," says Mr Everitt.
The industry's more positive mood has a lot to do with the Aerospace Growth Partnership (AGP), perhaps the closest the UK has to an industrial strategy, he says.
AGP is a government-industry initiative that included setting up a technology institute and bursary scheme for engineering students. It is about focusing on product innovation, opening doors and thinking long-term.
'Fragmented'
Mr Bellamy believes the full benefit of the AGP may be felt lower down the UK supply chain. Previous government attempts to support R&D and think long-term focused on top-tier companies.
"But there's a lot more R&D and longer-term thinking lower down the supply chain. It means that the UK has a supply chain that does not have to live or die with the success of Rolls-Royce or BAE Systems. You need more product innovation lower down the chain and the AGP is helping to do this," Mr Bellamy says.
He does, however, feel that the UK supply chain is too fragmented. Although the UK has more aerospace and defence companies than is typical among European countries, they tend to be smaller.
A lack of scale can be inefficient and costly. "At the tier-2 level and below there needs to be more consolidation and partnerships in the supply chain," Mr Bellamy says.
No one is pretending that everything is rosy. But in what can be a very cyclical industry, the current trajectory appears to be up. Can it continue?
"The bottom line is that it will only remain so if we continue to place large-scale effort on R&D and also invest in people so that we can maintain the strong lead," says Mr Wheeldon.
"There is ample evidence in the annals of UK manufacturing history that tell us why so many of the industries in which we also used to lead fell away."
Lack of vision, lack of skills, government indifference, complacency: they all play a part in industrial decline. But maybe, just maybe, lessons have been learned.