Wells Fargo profits rise as US economy improves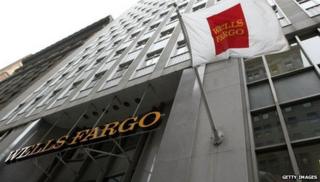 Profits at Wells Fargo rose 3% in the second quarter, as the US's largest bank benefitted from a pick-up in the US economy.
The bank - which is responsible for one out of six US home loans - reported a quarterly profit of $5.7bn (£3.3bn).
It also said it lent $47bn in mortgages during the period from March to June, up from $36bn in the first quarter.
Wells Fargo's results are closely watched, as they are seen as a bellwether for the US housing market.
The bank's chief executive John Stumpf said the results reflected "strong credit quality driven by an improved economy".
Despite the profits boost, shares in Wells Fargo were down by over 1%, as investors fretted over declining revenue, which slipped 1.5% to $21.07bn.
Furthermore, although mortgage lending activity increased in this quarter, it is still significantly lower than it had been in previous years.
'Settling of mortgages'
Compared to the same period last year, Wells Fargo lent $65bn less of loans, a significant drop.
The bank said its mortgage business was hit by a weaker-than-expected spring selling season compared with a year ago.
Ralph Silva, a US banking analyst for the SBR-Network, told the BBC: "Wells Fargo results are showing a steadying of mortgage activity after a period of bargain hunting.
"Mortgage growth could never continue as quickly as it had been in the US, we are seeing a more reasonable mortgage level, which will be lower than previous quarters."
Overall, Wells Fargo's stock price has increased over 14% for the year.
Investors have increasingly flocked to the bank, which has avoided big losses as well as the ire of regulators, who have increasingly forced large fines from big banks over mortgage mis-selling and sanctions violations.