World Cup 2014: Who are Fifa ticket agents Match Hospitality?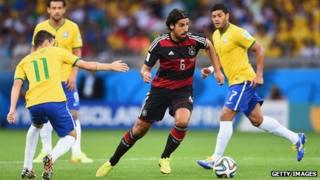 For a sports business which has successfully done its business away from the spotlight for years, Fifa's World Cup hospitality ticketing provider Match has found itself spectacularly catapulted onto centre stage.
The company has been intertwined with Fifa for the past 20 years, since the 1994 World Cup, but has sailed under the radar of your average football fan.
It paid some $240m for the exclusive rights to sell corporate hospitality at the 2010 and 2014 World Cups.
The firm's English chief executive Ray Whelan is, according to Brazilian police, a fugitive from justice, wanted for questioning as part of their probe into 2014 World Cup ticket touting.
Lauded by Fifa three years ago for helping in the "fight against ticket touts", the firm now finds itself dragged in to an investigation looking at how an international gang has allegedly been earning some $90m (£52m) per World Cup tournament.
The gang is believed to have been making money by acquiring and illegally selling on VIP tickets and hospitality packages.
As part of the Rio police probe, dubbed Operation Jules Rimet, some 12 men are facing charges of "criminal organisation, ticket touting, bribery, money laundering and tax evasion".
But Jaime Byrom, executive chairman of Match Hospitality, has said that the police responsible for the investigation "are not experts in Fifa World Cup ticketing or hospitality", and deny any wrongdoing by Mr Whelan.
Cheshire nerve-centre
Based in Zurich and Cheadle, Cheshire, Match Hospitality describes itself as "the professional services company appointed by Fifa to provide ticketing, accommodation and event information technology services to Fifa".
As the official provider of hospitality packages for the football World Cup, its prices are somewhat steeper than the usual bread-and-butter ticket categories, with packages for games at Brazil 2014 ranging from $700 (£410) up to more than $100,000.
Of some roughly 3 million tickets available at the 2014 event, they were given roughly 450,000 to sell to hospitality clients.
It won the hospitality rights to the Confederations Cup in South Africa in 2009, the 2010 World Cup the following year, and then the Confederations Cup and World Cup in Brazil in 2013 and 2014.
It is a subsidiary of Byrom plc, which is based in the same Cheadle office block as Match Hospitality.
Byrom was founded by brothers Jaime and Enrique Byrom, who also both sit on the board of Match, Jaime in the role of executive chairman.
Mr Whelan, 64, whose lawyer is currently negotiating the terms on which he will surrender to police, is a brother-in-law of the Byroms.
Insiders describe Match as a "close knit family business" and say that the Byroms enjoy meeting and greeting high-powered VIP customers at major World Cup matches.
USA 1994
The Byrom brothers first worked for Fifa at the 1986 World Cup in Mexico as independent operators.
Their big break came at the 1994 World Cup in the US, where organisers hired them to do the match ticketing, and to manage the official tour operator component and the accommodation bureaus for tourists and the media.
According to those who worked on that tournament, they "did a fine job".
Fifa obviously thought so too and has since gone on to award them the hospitality contacts too.
As well as Byrom's majority stake, minority shareholders in Match include Japanese media rights company Dentsu, South African-based investment group Bidvest, and Swiss sports marketing firm Infront, whose president is Philippe Blatter, nephew of Fifa president Sepp Blatter.
Fast sales
As part of the police probe Match, and Fifa, football's world governing body, have said they are fully collaborating with the local authorities
Match has acknowledged Mr Whelan talked about cash sales of final tickets for $25,000 (£14,600) in telephone calls tapped by Rio de Janeiro police, but they say those were packages that included not just tickets but VIP services, which accounts for the high price.
Jaime Byrom has said that "notwithstanding our belief that the action taken against Mr Whelan was illegal and baseless, Match Services and I personally remain totally committed to assist the authorities".
Two years ago Match said that it had achieved record hospitality sales for this summer's World Cup in Brazil, of $262m, just seven months after the official hospitality sales launch in November 2011.
In June 2012 it said that it had "already concluded deals equal to the total revenue generated by the hospitality programme for the 2010 Fifa World Cup".
It has been widely reported that during the World Cup in South Africa in 2010, Match had been left with unsold hospitality packages, and indeed empty hospitality suites could be seen at a number of games.
In November 2011, Fifa and Match Hospitality announced an extension of their deal, giving Match exclusive hospitality rights again for the 2018 World Cup in Russia and 2022 World Cup in Qatar.
Fight against touts
At the time Fifa said: "Following an industry evaluation conducted by Fifa, Match Hospitality emerged as the most suitable candidate."
And it also said then: "The agreement also further strengthens Fifa's fight against ticket touts."
"Thanks to their expertise and monitoring facilities, Match Hospitality will be in a position to assist Fifa in enforcing the provisions governing the sale of hospitality packages, effectively preventing unauthorised dealers from luring corporate clients and individuals into buying such packages from them."
The agreement also covers the Confederations Cups in 2017 and 2021 and the Women's World Cups in 2019 and 2023.
The deal was worth $300m to Fifa, as well as a profit share of packages sold.
"Match Hospitality delivered a successful hospitality programme in 2010 despite the very challenging economic situation influencing this particular industry at the time," said Fifa when it announced the deal.