Espirito Santo fast-tracks management changes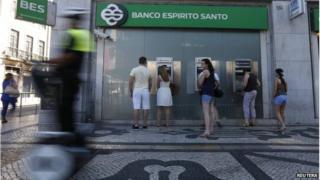 Portuguese bank Banco Espirito Santo (BES) has accelerated the appointment of new executives, originally due to start at the end of July.
BES said the new executives were now already in place.
The Bank of Portugal ordered the changes to be fast-tracked after worries about the financial strength of the bank's parent company hit global stock markets on Thursday.
BES is one of Portugal's largest banks.
Espirito Santo Financial Group, which holds a 25% stake in BES, previously said economist Vitor Bento would be the new chief executive of the bank from the end of July and Joao Moreira Rato, who heads Portugal's IGCP debt agency, would become the chief financial officer.
Meanwhile, Jose Honorio becomes deputy chief executive officer.
The three replace the Espirito Santo family members, including its patriarch Ricardo Espirito Santo Salgado, who announced his resignation as chief executive of BES last month.
A shareholder meeting set for 31 July will ratify the appointments, BES said.
'New team'
On Thursday, shares in both the lender and Espirito Santo Financial Group - which holds a 25% stake in BES - fell sharply on worries about the financial health of the Espirito Santo group.
The head of BES's investment banking unit, Jose Maria Ricciardi, said on Sunday the change in the bank's management needed to take place as soon as possible.
"I think it's indispensable for the confidence of clients, staff and the general public that the executive commission of BES be substituted as soon as possible by the new team that is supported by the main shareholders and the Bank of Portugal," he added.
The bank has said it has enough capital to meet any potential capital shortfalls resulting from its exposure to Espirito Santo family companies.