UK drug firm Shire recommends takeover by US rival AbbVie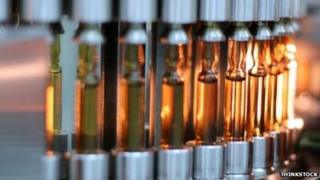 British drug firm Shire is recommending a takeover offer from US rival AbbVie after its most recent offer of £53.20 ($91.05) per share.
The board of the UK pharmaceutical company says it will be recommending the offer to shareholders.
The US company began bidding for Shire in May. The deal is an attractive one for AbbVie, as it could dramatically reduce its tax bill.
AbbVie had raised its offer to £51.15 ($87.54) per share last Tuesday.
Under the new offer, Shire shareholders would own approximately 25% of the combined new firm.
Shire, which is based in Basingstoke, Hampshire, said in a statement: "The board of Shire has indicated to AbbVie that it would be willing to recommend an offer at the level of the revised proposal to Shire shareholders, subject to satisfactory resolution of the other terms of the offer."
Shire's shares rose 5.9% to close at £48.70 in London on Friday, valuing the company at £28.7bn. AbbVie's closed at $54.95 (down 0.76%).