Russian delegates told to 'go home' from Farnborough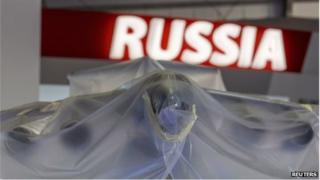 Russia's Deputy Prime Minister Dmitry Rogozin has advised Russian delegates at the Farnborough Airshow to "return home".
"I recommend our delegation to wind up its participation in the show and return home," Mr Rogozin wrote on Twitter.
It comes after the UK's Foreign Office said no Russian delegates had been invited to the airshow as government guests due to the Ukraine conflict.
The airshow began on Monday.
"Due to Russian actions in Ukraine, no representatives from the Russian government have been issued [with] HMG invitations to FIA 2014," a spokesperson told the BBC.
The Foreign Office added that because Farnborough was a commercial event, it played no part in determining which companies were invited to exhibit.
---
Analysis
Russell Hotten, business reporter, Farnborough
Russia usually sends large delegations to these events, so not having decision-makers at the biggest aerospace and defence trade show of the year will have de-railed a lot of plans.
There are about 70 Russian companies exhibiting at Farnborough with a number of new and expensive products being showcased to potential buyers.
Those already here are unlikely to be packing up and going home, though. Many are not involved in defence-related operations.
And, besides, staging exhibitions at airshows is an expensive business and "we're not about to throw the money overboard", one Russian said.
Still, air shows are beauty parades for some very pricey kit, and when customers fly in to negotiate a possible purchase they want to talk to the main men (or women).
That top Russian officials were having trouble getting visas was known, so it's likely that meetings and presentations had already been cancelled.
But that will be of little comfort in Moscow. Russia has big ambitions to make aerospace and defence exports a core part of its economy, and this week, all the key global players were available in one place.
Moscow is clearly irked, and few people will be surprised if there is a tit-for-tat response against the UK aerospace sector.
---
Russia usually sends a sizeable contingent to Farnborough with the aim of increasing its foreign sales.
However, Sergei Kornev, head of the department for sales of military aviation of Russia's arms exports agency, Rosoboronexport, told Russian news agencies on Monday that its arms sales would not be significantly affected.