Cuddly puppets axed as Wonga attempts big clean-up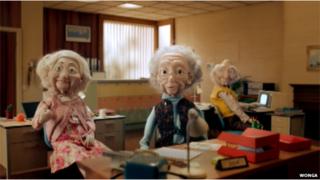 After its regular appearances as the whipping boy for all that is bad in payday lending, Wonga is attempting to offer a new face to customers - and its critics.
Andy Haste, the former chief executive of the insurance giant, RSA (owner of More Than), is to become chairman of the company and his first job will be to announce a review of how the business operates.
Part of that will be to clean up Wonga's advertising and Mr Haste told me that the Wonga grandparent puppets will go.
He said Wonga did not want to be associated with "anything which inadvertently attracts children".
Mr Haste will also look at advertising during children's programmes as part of the review. The payday loan sector as a whole has been criticised for advertising during children's programmes.
Ofcom is already looking at the situation.
Respectable
Mr Haste says he wants to change the type of business Wonga is, even if that means it makes less money.
"Our goal is to deliver the original vision for Wonga - to provide short-term lending to the right customers in a responsible and transparent way," he said today.
"We will become a more customer focused, and inevitably in the near term, a smaller and less profitable business.
"However, we are determined to make the necessary changes and serve our customers in the right way, to repair our reputation and become a business with a long-term future and an accepted place in the financial services industry."
The review will look at six areas:
strengthening affordability for customers;
tightening lending criteria;
the total cost of the credit to customers, rather than just the weekly repayment amount;
advertising and not appealing to the young;
a technology overhaul;
and working more closely with regulators.
Wonga has faced its fair share of criticism - not least the recent revelation that it sent out fake legal letters to its own customers who were having problems repaying loans.
Whether this process by Mr Haste will gain them more trust from their customers or politicians remains to be seen.
But, for Mr Haste, at least, this is the start of a process he hopes will make Wonga respectable.
Update 11:20
Andy Haste has said that he will "embrace" any interest rate cap set by the Financial Conduct Authority, which took over regulation of the payday loans sector in April.
It was reported at the weekend by The Sunday Telegraph that a new cap could be announced as early as this week.