North's outdated infrastructure costs UK billions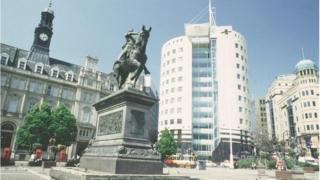 The UK loses billions of pounds every year because of poor investment in transport and broadband, according to a new report.
The RSA City Growth Commission claims the economy has seen 5% less growth per year between 2000 and 2010 as a result of "chronic" underinvestment outside London.
It urges an overhaul of transport, housing and broadband provision.
Northern UK cities should be prioritised.
High speeds
The report suggests the government should give regional conurbations more say in national policy making and put transport and broadband between regional cities at the heart of investment.
"For too long our cities have not had a seat at the table and this has been to the detriment of northern metros in particular, as well as the economic growth of the UK economy as a whole," said commission chair, Jim O'Neill, the former Goldman Sachs chief economist.
Better connections does not have to mean high-speed rail, which the government favours to help growth, the commission concludes. The focus should rather be on integration between modes of transport.
The report also proposes changes to planning policies to encourage more house building. It says that private firms lack the incentives to invest in completing broadband infrastructure to the level of individual homes and businesses.
The report from the RSA, or Royal Society for the encouragement of Arts, Manufactures and Commerce, is part of a series of reports commissioned to examine policies to promote growth in the UK's regional cities. Its final conclusion will be published in October 2014.